Topic 2: Welcome
The children have experienced the best start to the Welcome topic as we went to watch, The Tiger who came to Tea at the theatre. The children watched as Sophie and Mummy welcomed the Tiger into their home and invited him to join them for tea!
The children have enjoyed role-playing this welcome as they pretended to be Mummy, Sophie and the Tiger in the role play area...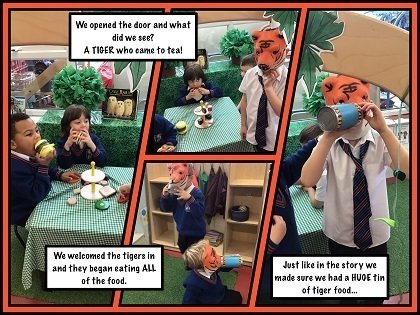 After half term the children will be learning how new babies are welcomed into the church family through baptism.
Harvest 2019
Today we enjoyed our Academy Harvest Mass where we celebrated the wonderful fruits and vegetables that grow in God's World. We celebrated before Mass as we made fruit and vegetable puppets and danced and sung along to 'The Harvest Samba.'
After Mass we eagerly waited to see who had won the delicious Fruit and Vegetable hampers that had been donated by our friends an family of St. Bernadette's.
Topic 1: Myself
The children have thoroughly enjoyed our first Come and See topic. The children have taken part in lots of name writing activities, they have drawn pictures of the people who are precious to them and who keep them safe and snug and created a new class prayer using their favourite phrases from the psalms we have learnt.
We ended our first Come and See topic with a Class Liturgy planned by the children to celebrate all they had learnt throughout the Myself topic.