Class 10 Collective Worship: Love
Monday 21st May
We were blessed to be given the chance to hold a Whole School Collective Worship all about love. We wanted to show people that love is designed for everyone, and is a very important action of selflessness. We taped hearts, with actions written on them, to the floor. This meant that all of the children had to enage with the actions we were giving them. We also gave people the examples of Jesus, St Katherine Drexel and Nelson Mandella, as they showed how to love properly. Miss Clark was so pleased (again) with how well we gave this message.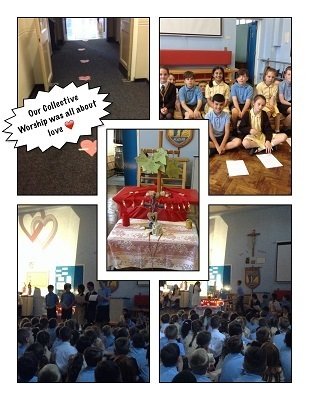 Class 1 Collective Worship: Mary's Month of May
Monday 14th May
Today a group of children from Class 1 took part in their first Collective Worship. They told us all about Mary as May is the Month of Mary. The children wore flower crowns which they had made and added hearts of love and a collage of Mary to their focal area.
Class 12 Collective Worship:
Monday 30th April
Mrs Galvin Collective Worship:
Monday 23rd April
Class 10 Stations of the Cross service
Wednesday 28th March
To help prepare ourselves and the other children in the Academy, we decided to hold a Stations of the Cross Service. We talked all of the children through the Stations of the Cross and after each station, we put a thorn into the crown of thorns to remind us of the effect our sins can have on others. It was very sad, but very powerful.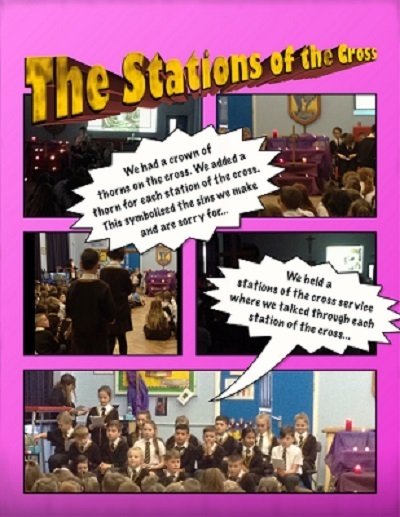 Class 2 Collective Worship: Mother's Day
Monday 12th March
Class 2 planned today's Collective Worship and Miss Fenwick chose Esmee, Zayn, Layce-Mai, Rebecca, Alex and Jaylen to deliver it. The children made links between their Mum's love and the love that Jesus showed for all the children. We invited everyone to sing, 'Jesus Loves the Little Children' with us and we finished with a thank you prayer that the children of Class 2 had written. As the classes left the hall they collected their special Mother's Day Gift that the children in Class 2 had made them (heart with long hugging arms which read, 'We Love Our Mummies.'
Well done Class 2, I was very proud of you this afternoon.
Miss Fenwick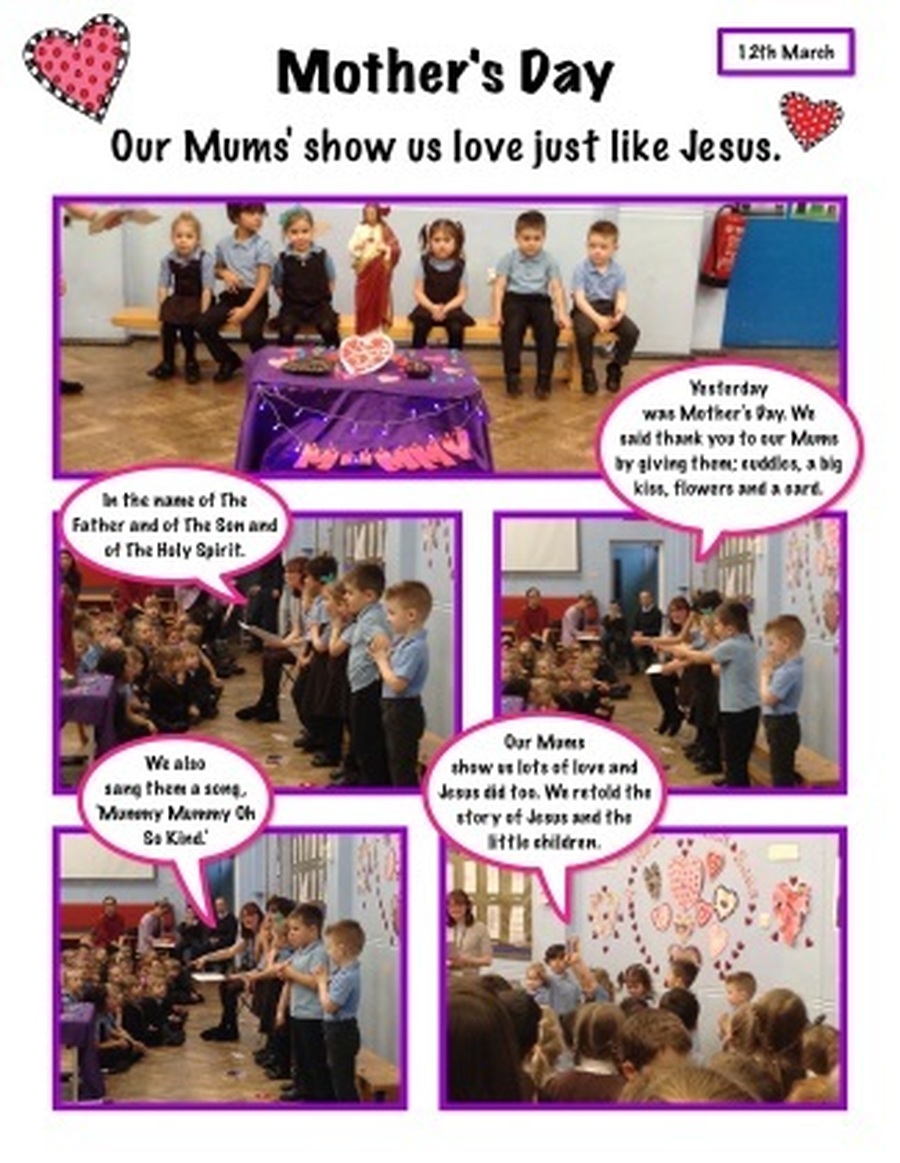 Class 10 Collective Worship: Lent
Monday 26th February
Class 10 decided to base our Collective Worship on Lent. We shared the story of Jesus's temptation in the desert, so we talked about how we can walk through the desert with Jesus and how we can give things up or do things so that we can walk with him. We gave each class a crown of thorns with a special task they can do through Lent. Some of them are quite tricky such as: give up 10 minutes on a computer, games console or TV!
We really enjoyed it and hope the rest of the school did too...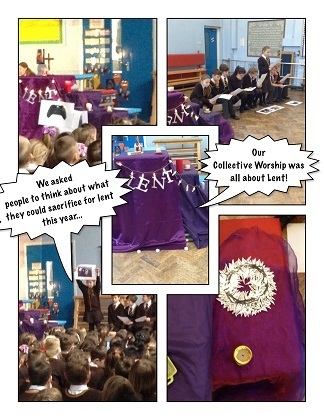 Class 5 Collective Worship: St. Valentine
Monday 19th February
Class 3 Collective Worship: Our Lady of Lourdes
Monday 5th February
Class 3 planned their 1st Collective Worship on Our Lady of Lourdes, since it is her Feast Day on Sunday, 11th February. The eight children who delivered the worship told the story of how Our Lady appeared to Bernadette Soubirous in Lourdes, France. They explained how Lourdes is now a place of pilgrimage for millions of people, including those who are sick. They gave out Mary grottos to each class as a reminder to say the Hail Mary each day this week and pray for the sick.
Well done Class 3.
Class 11 Collective Worship: To be merciful
Monday 22nd January
Children from Class 11 shared the the parable of the Unforgiving Servant to share Jesus' teaching on how to be merciful. Follow the link to read the parable -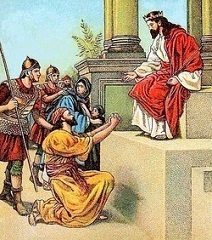 Class 2 Collective Worship: Advent
Monday 27th November
Children from Class 2 welcomed us into the season of Advent with their first Collective Worship. The Collective Worship was planned by the 6 children who took part, alongside Miss Fenwick. They did a fantastic job and we all left with our Acts of Kindness Advent Calendars - Miss Fenwick will be looking out for kindness spreading across our Academy.
Well done Class 2.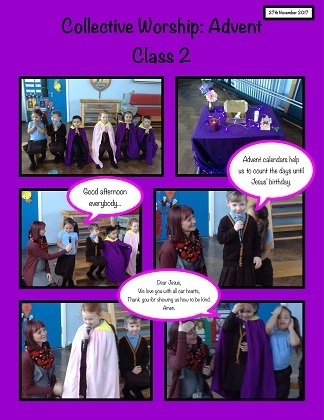 Class 6 Collective Worship: Belonging
Monday 20th November
Class 6 chose to do their Collective Worship about Belonging. We based our Collective Worship on Galatians 3:28. It is important to feel you belong. We all belong to God. And we are all special. We made a belonging tree.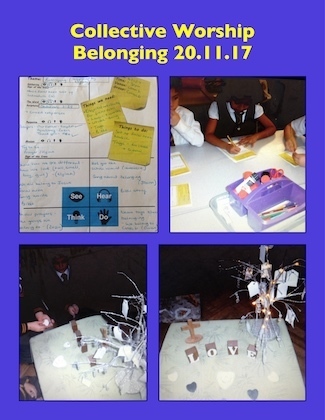 Class 9 Collective Worship: Remembrance
Monday 9th November
Children from Class 9 welcomed us to a very special and thoughtful Collective Worship this afternoon. The Collective Worship was planned by the children in class along with Mrs Baldwin. They did a fantastic job and thinking about how we could remember and how important it was to remember those still in conflict now. They made poppies (one for each class) as a way of remembering all the time not just at this weekend. The children wrote and shared poems and prayers which were fantastic. It was very lovely for everyone to gather in the hall by creating a large cross on the floor from the class poppies every class in school had been asked to make.
Class 9 asked everyone to remember those who had died and those still fighting. They also asked everyone to go away and think of ways in which they could help spread peace.
Fantastic and thought provoking Collective Worship Class 9, well done.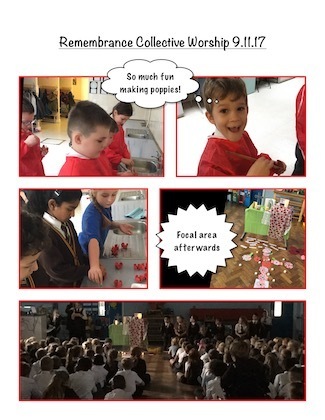 Mrs Galvin took all the poppies created by each class and created an amazing display in our school all for all to see...we will remember them.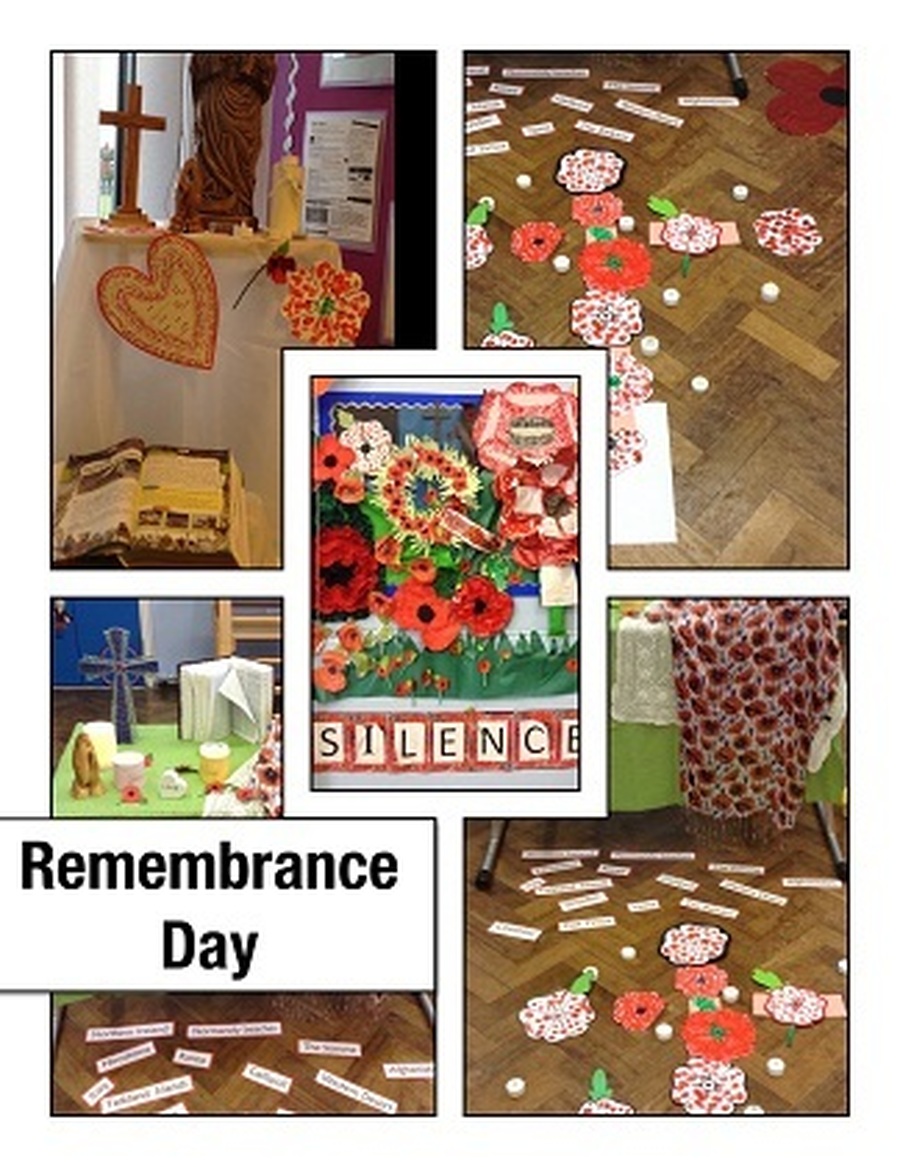 Class 11 Collective Worship: World Peace Day
Monday 25th September
We gathered to pray for peace in our world. Jesus is the light of our world, He said to his disciples, "Peace I leave with you, my peace I give you. A peace the world can not give, this is my gift to you." - A peace that only comes from knowing God.
We sang peace is flowing like a river because we are sharing peace with all nations today.
Peace brings Love.
Peace brings Joy.
Peace brings Hope.
We remember those affected by conflict, especially those in El Salvador. People everywhere deserve peace. St Teresa of Avila taught us: Christ has no body now on earth but ours. Ours are his eyes with which he goes around doing good. Ours are his hands with which He blesses people now.
God of peace we pray for peace around the world
Where there is hatred, sew seeds of calm.
Where there is destruction, help us to rebuild.
Where children are crying, bring an end to their tears.
Shelter your people and protect them.
Guide them and keep them from harm.
Amen.