Topic 6: Growing
Lent is a time when our love grows. We are all trying hard to follow in the footsteps of Jesus and to keep our Lenten promises...
Topic 5: Gathering
Ash Wednesday Mass was perfectly timed to support us in our learning about Mass within the Gathering topic. Today we delved deeper into the four parts of Mass and to support with this learning we learnt a chant:
"We Gather,
We Listen,
We Give Thanks,
We Spread The Word"
We then went on to concentrate on the beginning of Mass and how all parishioners are welcomed and the preparations behind this. The children enjoyed creating their own paper churches and created congregations which celebrated how EVERYONE is welcome to gather together and join in the celebration of The Mass. The children demonstrated a deep understanding of the importance of how everyone is welcome and equal especially in the eyes of God.
Today we learnt about 'God's Word' and how the priest reads stories from the bible during Mass - this is The Word we all need to spread. We read Mark 10 13-16:
'Some people brought children to Jesus for him to place his hands on them, but the disciples scolded the people. When Jesus noticed this, he was angry and said to his disciples, "Let the children come to me and do not stop them..." He took the children into his arms and placed his hands on each of them and blessed them'
Jesus loved the children and wanted to tell them stories and teach them how to grow up to be kind and loyal to God. To represent Jesus' love we made a Jesus puppet with extra long arms - long enough to give all the children a hug. The children enjoyed filling Jesus' arms with hearts - spreading his love to everyone.
Topic 4: Celebrating
As part of this topic we are learning the special story of, 'The Presentation Story.' Anna and Simeon were old, holy and wise and spoke of Jesus as, 'The light of the world.' This piece of scripture formed our first class assembly in which we thought about how we can help others like Jesus did and how our lights can shine brightly!
Friday 24th January
Our First Class Assembly: Let Your Light Shine
Thank you to all family and friends who came along to support Class 2 and 3 at their first Class Assembly. Mrs Wilson tells me the children were fantastic ( I knew they would be) and sent out an important message of letting your light shine in anyway you can...
Topic 3: Birthdays
Throughout this topic the children learnt about Advent being a time of preparation for Christmas. They helped prepare our classroom with decorations and learnt about the Advent Wreath.
In addition to their work on Advent the children learnt all about The First Christmas Story. Each morning we opened our special Advent calendar which consisted of a small book each day, each building up The First Christmas Story - we enjoyed this addition to our morning routine.
We also performed a short Nativity Concert for friends and family at school and then we visited our neighbours at 'Edmund House Care Home' and performed for them also.
Friday 29th December
Thank you to The Briars for their very generous gift of a Bible for every child in Early Years 2.
To thank them for their generosity, we welcomed them into our Academy with a performance from;
Class 2 and 3: Welcome to St. Bernadette's and Our Cornerstone Values Song
Class 1: Jonah and the Whale Song
Class 4: Who Built the Ark? Song
The video is now live on You Tube.
You tube: NDCYS Live
The great big briars diocesan missionary discipleship scripture scramble.
Skip to 26:40secs to watch our St. Bernadette's stars!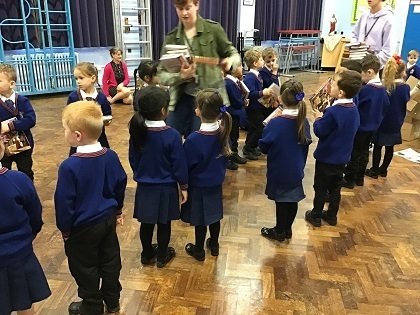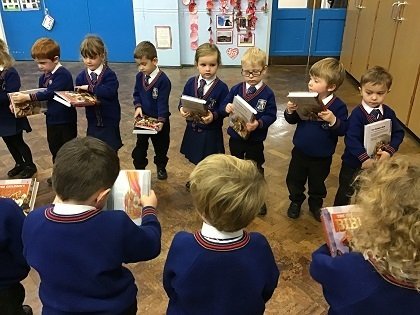 Topic 2: Welcome
The children have experienced the best start to the Welcome topic as we went to watch, The Tiger who came to Tea at the theatre. The children watched as Sophie and Mummy welcomed the Tiger into their home and invited him to join them for tea!
The children have enjoyed role-playing this welcome as they pretended to be Mummy, Sophie and the Tiger in the role play area...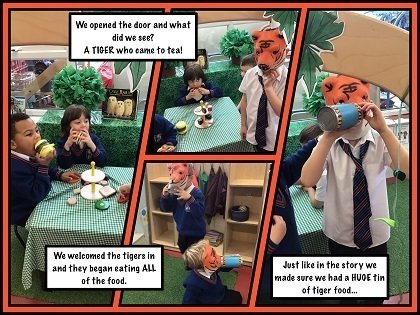 After half term the children will be learning how new babies are welcomed into the church family through baptism.
Harvest 2019
Today we enjoyed our Academy Harvest Mass where we celebrated the wonderful fruits and vegetables that grow in God's World. We celebrated before Mass as we made fruit and vegetable puppets and danced and sung along to 'The Harvest Samba.'
After Mass we eagerly waited to see who had won the delicious Fruit and Vegetable hampers that had been donated by our friends an family of St. Bernadette's.
Topic 1: Myself
The children have thoroughly enjoyed our first Come and See topic. The children have taken part in lots of name writing activities, they have drawn pictures of the people who are precious to them and who keep them safe and snug and created a new class prayer using their favourite phrases from the psalms we have learnt.
We ended our first Come and See topic with a Class Liturgy planned by the children to celebrate all they had learnt throughout the Myself topic.