Welcome to our blog!
Class 2 have an exciting blog to keep all of our parents, carers and visitors, up to date with what we have been learning in school. We look forward to sharing all of our hard work with you, so keep checking our blog for regular updates.
Tuesday 5th November
Bonfire Night
Remember, remember the 5th of November,
Gunpowder, treason and plot...
Today we learnt all about the celebration of Bonfire Night and why this celebration takes place each year on 5th November. We discussed the different ways in which we celebrate Bonfire Night;
lighting a bonfire

fireworks

sparklers

eating jacket potatoes, hotdogs and toffee apples
We then created our own firework art using different materials, textures and techniques.
First we blew runny paint in different directions to create a firework shape.
Then we added oil pastel strokes to add to the firework shape.
Finally we sprinkled glitter and sequins in the middle of each firework.
Monday 4th November
Music Making, Chanting and Singing
The children in Class 2 enjoyed exploring and making music with a range of percussion instruments today. They were able to use the instruments to play the pulse of a chant and then explored how to perform using the same instruments as they sang, 'A Sailor went to sea, sea, sea.'
Thursday 31st October
An explosive end to our Magical Topic...
Today we mixed our very own Colour Changing Magic Potions!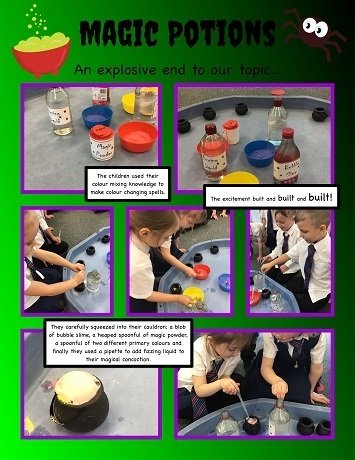 Wednesday 23rd October
Have fun with phonics this half term...
Friday 18th October
Enjoy Half Term Everyone!
Friday 11th October
Room on the Broom
This week we began our new class story: Room on the Broom (the 'Magic' part of our 'Mystery, Mischief and Magic' topic). The children have enjoyed learning a Room on the Broom song - hopefully a video to follow very soon, they have learnt how to add characters to the broomstick in Maths, they have started writing magic spells and they all made a little magic of their own as they mixed primary colours to make their own 'colour changing paint spells!'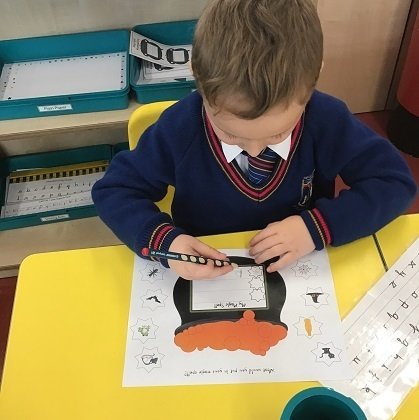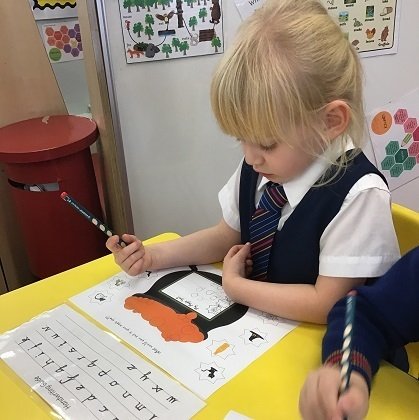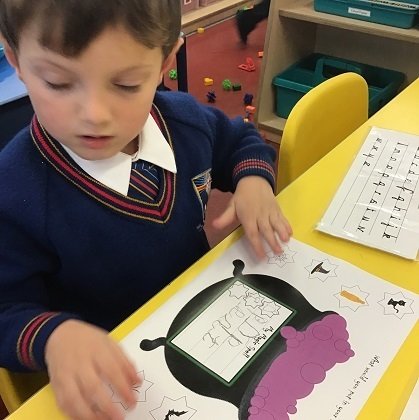 Monday 7th October 2019
Mission Complete...
Don't worry everyone the Evil Peas have been caught thanks to the super idea from Class 2 - we made webs to catch the Evil Peas and they worked!
Friday 4th October 2019
Fun with Phonics...
Do the words rhyme or need to go in the slime?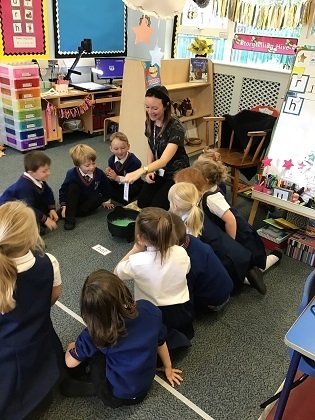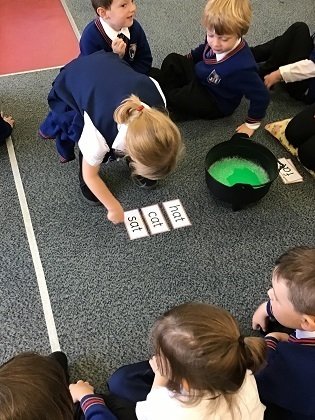 Friday 4th October 2019
We Are Famous!
Have you seen our first class photo in the newspaper?
Thursday 3rd October 2019
National Poetry Day
Today is National Poetry Day and we learnt a Tiger Who Came to Tea poem.
After finishing our Tiger puppets we performed our poem with the help of our puppets;
The Tiger who Came to Tea
I see a tiger at the front door,
And his eyes are shining bright.
I see a tiger at the front door,
And his teeth are big and white.
I see a tiger at the front door,
And he's smiling there at me.
I see a tiger at the front door,
And he wants to eat my tea!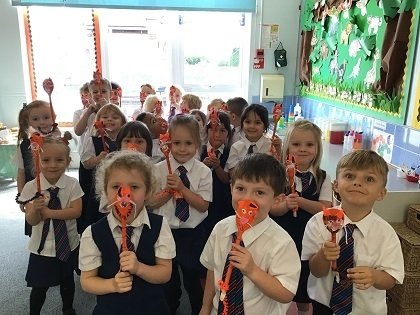 Wednesday 2nd October 2019
The Tiger Who Came to Tea Live Stage Show
Wow!
We have had a fantastic day today enjoying a real live stage show at a real theatre! The children were absolutely mesmerized as they watched 'The Tiger Who Came to Tea'.
The children started the tiger fun first thing this morning as we read the story again and started to make our own Tiger wooden spoon puppets - they are beginning to look fantastic.
Then after lunch a VERY excited bunch of children arrived back in the classroom ready to get on the bus and begin our journey to Grimsby Auditorium to watch The Tiger Who Came to Tea.
The show was fantastic and the children thoroughly enjoyed every minute especially singing about 'sausages and chips' and dancing to 'Tiger-robics.'
Thank you to all parents who contributed towards the cost of the trip - without your contributions we wouldn't be able to offer these opportunities to the children.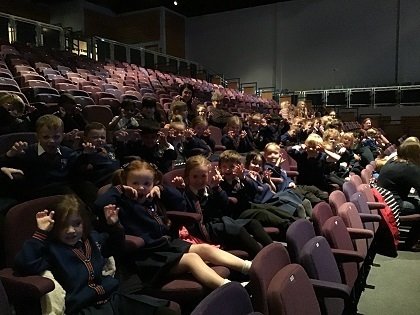 Friday 27th September 2019
Evil Peas are taking over our school!
We arrived at school this morning to a gate covered in Evil Peas and a very clear message that they were taking over our school!
After our morning run we came back to the classroom to find the vegetables that we were going to use for a weighing activity had been trapped by the Evil Peas!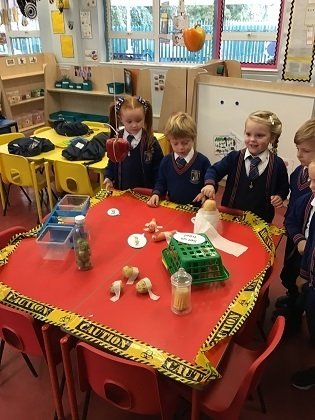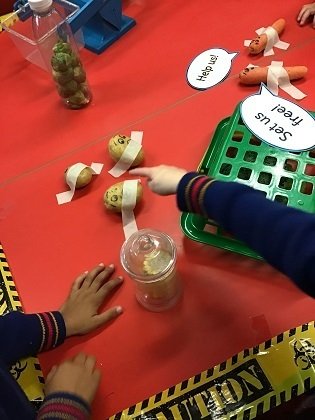 We decided to hunt for the peas and see how many there actually are all over our school...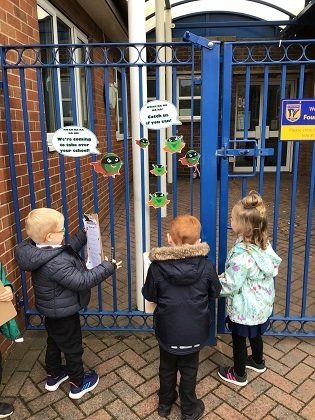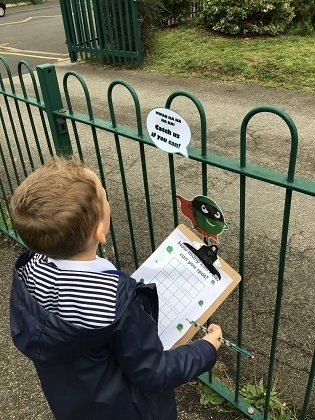 Thursday 5th September 2019
We are hooked!
We were introduced to our first Class Book today of our new topic, 'Mystery, Mischief and Magic', the first story we are focusing our work on is, 'The Gruffalo!' We went on a mystery hunt around the hall and found puzzle pieces and arrows with labels written on them. We then gathered together as a class to see if we could piece together our gigantic puzzle.
We quickly realised the mystery character was, The Gruffalo! We labelled his terrible tusks, terrible claws, orange eyes, black tongue and the famous purple prickles.
Once we were back in the classroom we opened up our story bag and out peeped an enormous Gruffalo!
But we're not scared!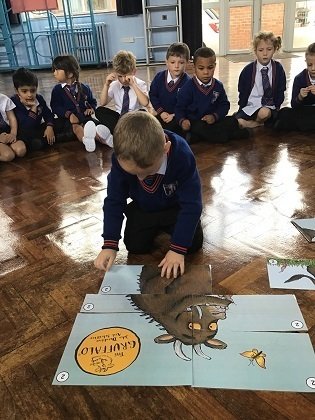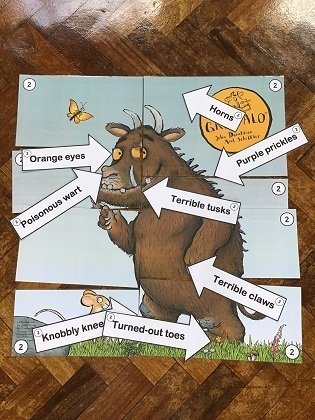 Monday 2nd September 2019
First Day of School (3rd September)
Hello everybody,
I hope you're excited for your first day in Class 2 - this year we are The Brilliant Bumblebee Class!
I'm looking forward to seeing you all looking super smart in your school uniform. Don't forget to give me a big smile as you come in through the door - I will be there to greet you and to help you to find your new peg.
See you all soon for lots of fun and learning!
Miss Fenwick