Class 3 have an exciting blog to keep all of out parents, carers and visitors up to date with what we have been learning in school. We look forward to sharing all of our hard work with you. Keep checking back for regular updates.
Monday 18th November
World Nursery Rhyme Week
Day 1: Baa Baa Black Sheep
This week is World Nursery Rhyme Week. We will be focusing on a different nursery rhyme each day and today was the turn of Baa Baa Black Sheep; also making an appearance was Baa Baa White Sheep!
We learnt the rhyme, played a singing game, created very woolly sheep and learnt about The Story of Wool. We have learnt lots of new words: shearing, dying, combed, bales - ask us about the story of wool - we'd love to tell you!
Friday 27th September 2019
The Evil Peas have escaped!
We arrived at school this morning to discover a message on the gate saying that the Evil Peas were taking over our school!
After our morning run we found that the vegetables we had left out for a weighing activity had been trapped by the Evil peas.
We went on a hunt around school to count how many Evil Peas were on the loose.
Thursday 5th September 2019
We are hooked!
We went on a treasure hunt around the hall finding puzzle pieces, arrows and word cards. We worked as a team to build the puzzle and soon realized that the character of our Class Book was the Gruffalo! We labelled his purple prickle, black tongue, terrible tusks, terrible claws and orange eyes.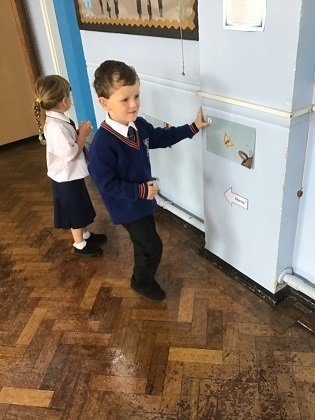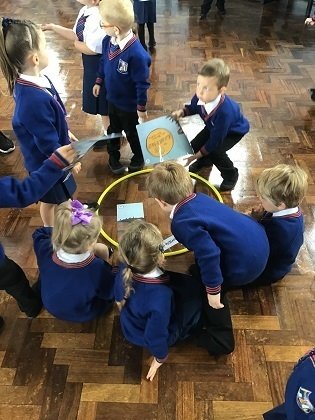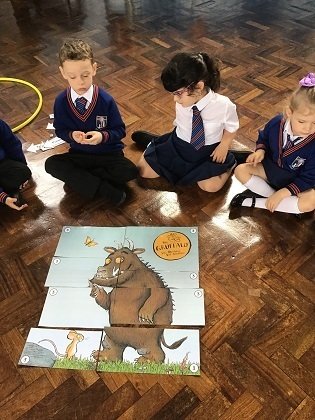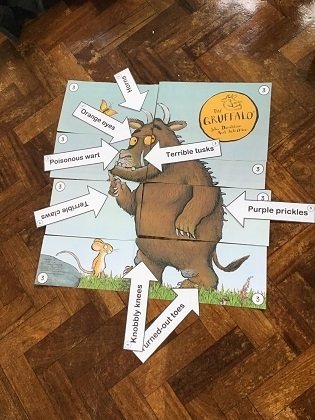 Mystery, Mischief and Magic
Who has purple prickle?
Who gets up to mischief?
Who wear a tall black hat?
This term we will be reading stories that will help us to answer these questions having lots of fun along the way.