Welcome to our class blog. Here we will keep you posted with some of the things we have been doing throughout our time in class 4.
Christmas Concert:
Rehearsals are going very well for this years production 'Born in a Barn'. Class 4 are going to be angels (unless otherwise informed). Please provide an angel costume. If you are struggling to provide a costume please come and see me.
We will be singing 2 songs in the concert; Dont Worry Mary and Born in a Barn. Please have a practise at home whenever you can...
Topic 2: Toys!
Today the classroom turned into a toy workshop to launch our new IPC topic. Just look at some of the amazing toys the children created...
Well done to the children who are already able to do their own school tie. Please keep practicing at home. Thank you to today's models showing us how its done/ having a very good try...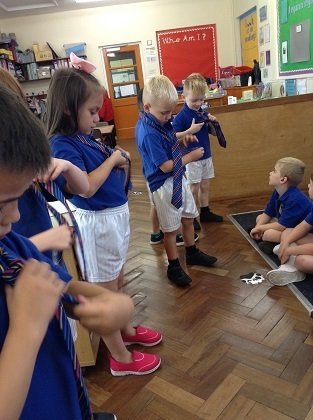 In English we have covered a range of texts so far including We're Going on a Bear Hunt, Handas Surprise, Beegu and instructions on how to carve a pumpkin!
We have enjoyed lots of practical and physical maths lessons already this term with a focus on numbers to 100.
Topic 1: All about me!
During this topic we turned into artists and were able to create ourselves in a range of ways including self-portraits, sketches and sculpture.
In science we have been looking at the different things humans need to stay alive. We focussed on food and the importance of a healthy balanced diet.