Friday 9th February
Our Class Liturgy
Yesterday we planned a class liturgy based upon our RE topic of Journeys. Today we used our plan to and began by creating our focal area. After making the sign of the cross, we chose to begin by singing the hymn 'Follow me'. We then sang 'Moses, you know you're the man'. After that we chose to watch a video animation of the story of Moses leading the Israelites out of slavery. Some of the children then read thank you prayers they had written. Finally the children all found a place in the classroom to write on a footprint who they were going to help on a journey and how they would do that. The children then read out their writing before adding it to our focal area to create a heart shape.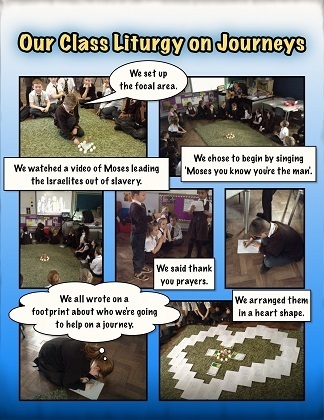 Tuesday 30th January
St. Lucy's Feast Day
As part of our topic on Journeys, we have been thinking about how we celebrate Advent and Lent. Today we learnt about St. Lucy's feast day which falls in Advent. We learnt about her life and found out how children in Sweden celebrate her feast day.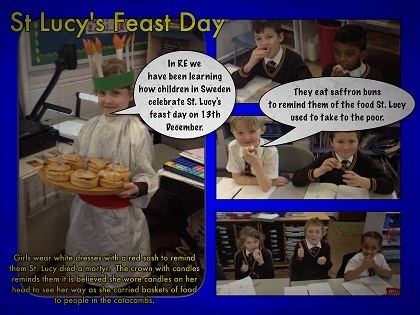 Comments (0)
There are currently no comments.