Monday 14th May
Today we have been learning about the gifts of the the Holy Spirit at Pentecost. As Pentecost is the church's birthday, we played a party game of pass the parcel. As we unwrapped the first three layers, we found pictures of wind, fire and 'welcome' written in different languages. This reminded us of what the disciples experienced when the Holy Spirit came to them in Jerusalem. We then unwrapped seven more layers. Inside each layer was a picture of an emoji symbol. These symbols helped us to understand the seven gifts of the Holy Spirit. Inside the last layer we found a dove and some sweets for us all to share. This was to remind us that the Holy Spirit is shared with all of us and we all have the same spirit in our hearts.
We then split into groups and worked together to sort the names of the gifts, the symbols to represent them and definitions of them. After that we created dove mobiles of the gifts of the Holy Spirit. We thought about how we use one of the gifts of the Holy Spirit at home, at school and at church.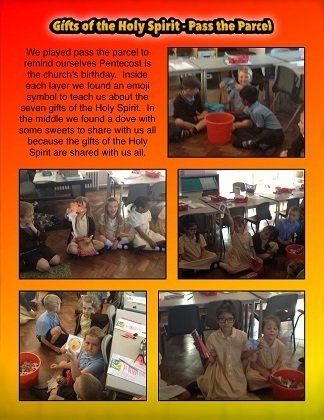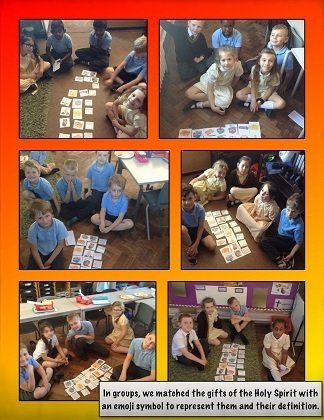 Summer Term Topic 1 - Energy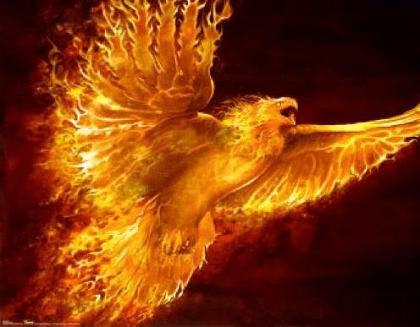 We began our topic on Energy by thinking about wind and fire and all of the ways we use them. We looked more closely at fire and brainstormed words and phrases to describe how fire looks, sounds, how it makes us feel and the power of it. We used these ideas to create poetic phrases which we turned into flame mobiles.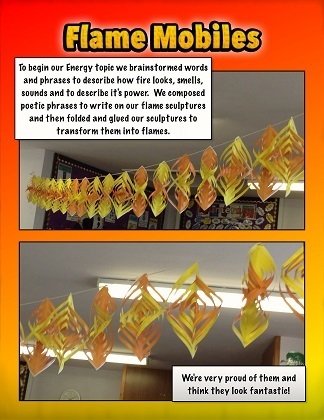 Class Liturgy - Giving
To conclude our topic on Giving, we planned and prepared our Class Liturgy. We began by making the sign of the cross and watching a role-play showing the ways adults give to us and how we can give to them. We then sang 'Sing Hosanna' accompanied by the guitar. After that we chose to listen to Matthew 25:35 as in this reading, Jesus tells us how he wants us to give to others. Children added pictures they had drawn to the focal area showing the groups of people God wants us to give to and ideas of how we can give to them. We then sang 'This is my body' and thought about how much Jesus gave for us by dying on the cross. We all said the Our Father, as this is the prayer Jesus gave to us. Some children shared prayers they had written thanking Jesus for giving his life for us and asking God to help us to give to others. We then all wrote a promise of how we are going to be more giving and added it to a basket on the focal area.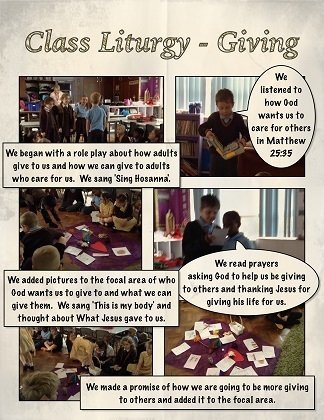 Easter Gardens
We have been learning that we celebrate Jesus rising from the dead on Easter Sunday. We worked together in groups to create our own Easter Gardens.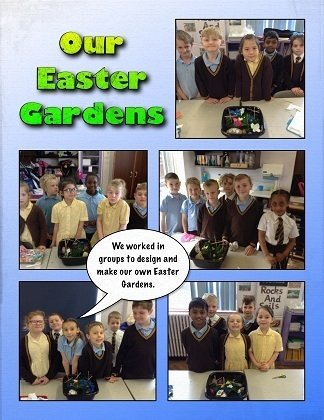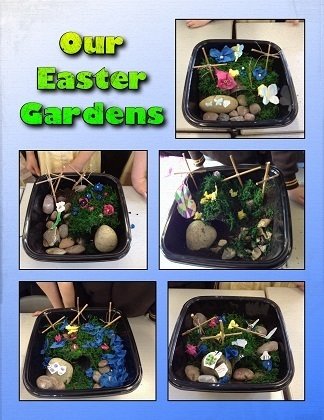 The Crucifixion
We have been looking at the Sorrowful Mysteries. We choose to look closer at the Crucifixion. We read from the scripture to learn about the events of the crucifixion. We added artefacts to our focal area to help us to remember and understand these events. We then wrote our own retelling of the Crucifixion.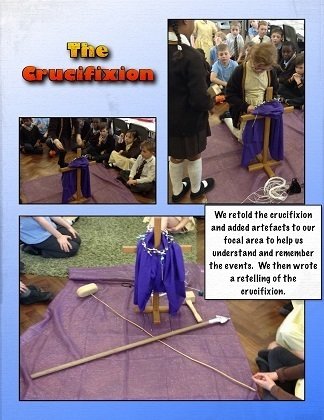 The Garden of Gethsemane
We have been thinking about how Peter would have felt throughout the events that happened in the Garden of Gethsemane. We formed a conscience alley to say how we thought he was feeling and why. We then used these ideas to write our own diary entry from the point of view of Peter.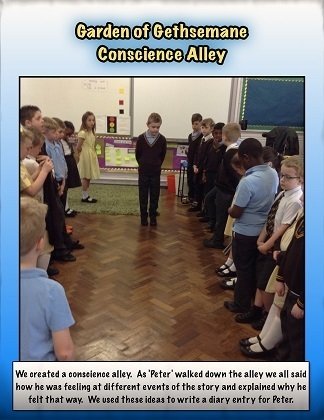 Giving to Others
We have been thinking a lot about how we can give to others. We have also looked at the scripture Matthew 25:35 and learnt about how Jesus wants us to give to others. The class decided that they wanted to raise money to give something to others and make a difference. They found it hard to imagine not having access to clean water to drink, wash and cook with. As a class they voted on different ideas to decide how to raise the money to buy a water pump for a family through Cafod and a cake sale was definitely the most popular idea! We asked Class 8 if they would like to help us and we raised a fantastic £99. This is enough to by three water pumps and give clean water to three families. Thank you to all the parents who donated cakes for the sale and to everyone who bought them. Thank you for helping us to give clean water to those who had none.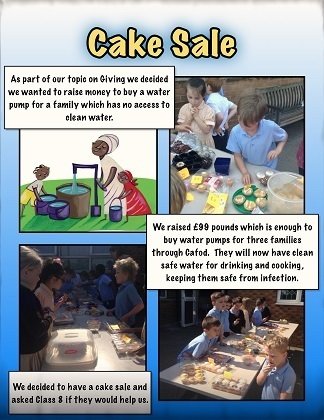 Class Liturgy
We planned our Class Liturgy to end our topic on Listening and Sharing. We decided to begin by singing the Our Father as this is the prayer that Jesus taught us and it is an important part of the mass. We then chose the Last Supper as our scripture and a group of children read and acted this out. After that we listened to thank you and sorry prayers that some children had written. To conclude our class liturgy we all wrote on a footprint how we are going to glorify God. This is something we think about when we say or sing the Gloria and when the priest gives us the final blessing at mass. We arranged our footprints to make a cross to remind us the Jesus is the Lamb of God. God sacrificed his son, he died on the cross, so that our sins can be forgiven.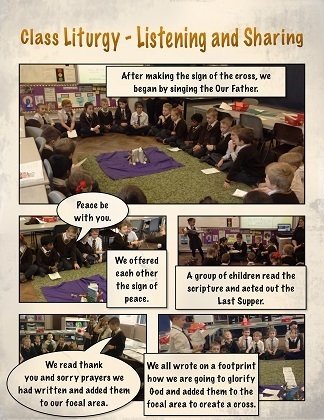 Communion Rite
Mrs Clark is a Eucharistic Minister. We prepared lots of questions to ask her so that we could find out about what her role during the Communion Rite involves. Mrs Clark showed us the scapular that she wears. We learnt how she became a Eucharistic Minister and why she enjoys it so much. Mrs Clark brought with her the items she uses when taking the Eucharist to the sick.
Eucharistic Prayer
We read the story of the Last Supper from the Bible. We then re-enacted the Last Supper. After that we looked closely at the words of the Eucharist Prayer and we found that that the story of the Last Supper are in this prayer. The priest says the words that Jesus said to his disciples. We learnt that this point of the mass is when the bread becomes Jesus' body and the wine becomes Jesus' blood.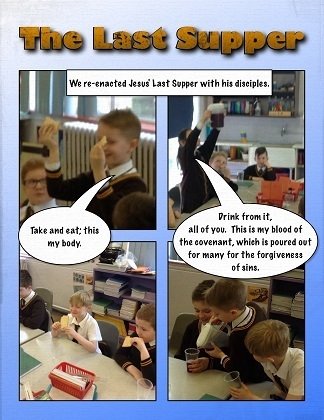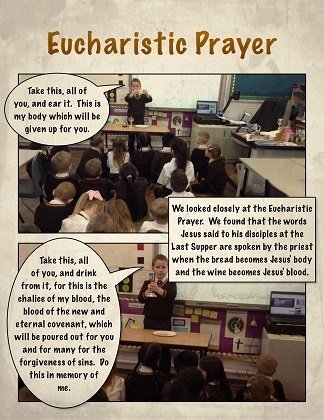 Presentation of Gifts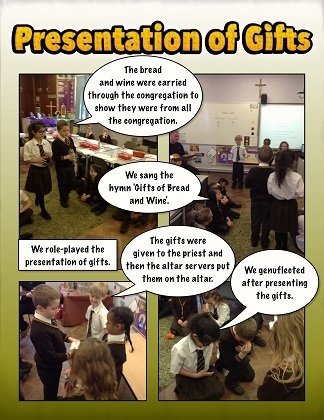 Monday 26th February
Pilgrimages and Prayer Life
As our topic on Journeys draws to a close, we were fortunate to welcome Mrs Eames to the class today. Mrs Eames is a friend of Mrs Dodsworth and she came in to answer our questions about pilgrimages. Prior to her visit we had thought about what we would like to find our from her and prepared a comprehensive list of questions. Mrs Eames brought lots of photographs of her visits to Lourdes, Rome and Walsingham. She told us about the range of emotions she feels when on a pilgrimage and why she chooses to go on them. We learnt about some of the things she has done there and how it has helped her on her faith journey. We were amazed that one of the pilgrimages she went on was walking from Nottingham to Walsingham by foot, taking it in turns to carry a heavy wooden cross. We learnt so much from her visit. We also had the opportunity to talk to Mrs Eames about her prayer life. She told us some of her favourite prayers that she uses in a morning and evening and other ways in which she prays to God.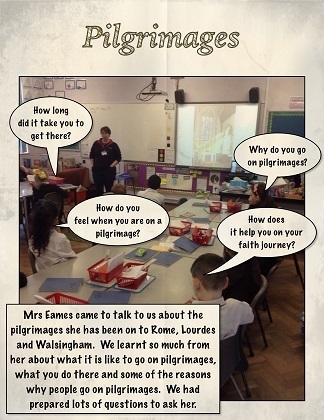 Friday 23rd February
Mary's Feast Days
As part of our RE topic on Journeys we have been thinking about Mary's life journey and how she might have felt at certain points in her life. We talked about why May and October are special month in which we remember Mary and we looked closely at six of her feast days. We each completed a craft related to one of Mary's feast days to help us remember why they are celebrated.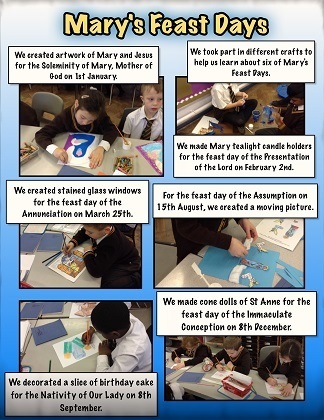 Friday 9th February
Our Class Liturgy
Yesterday we planned a class liturgy based upon our RE topic of Journeys. Today we used our plan to and began by creating our focal area. After making the sign of the cross, we chose to begin by singing the hymn 'Follow me'. We then sang 'Moses, you know you're the man'. After that we chose to watch a video animation of the story of Moses leading the Israelites out of slavery. Some of the children then read thank you prayers they had written. Finally the children all found a place in the classroom to write on a footprint who they were going to help on a journey and how they would do that. The children then read out their writing before adding it to our focal area to create a heart shape.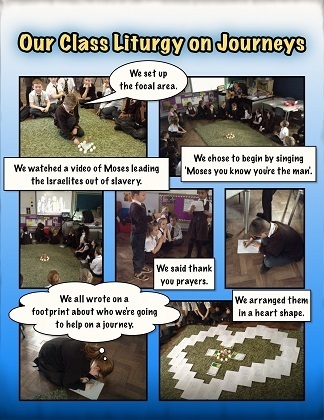 Tuesday 30th January
St. Lucy's Feast Day
As part of our topic on Journeys, we have been thinking about how we celebrate Advent and Lent. Today we learnt about St. Lucy's feast day which falls in Advent. We learnt about her life and found out how children in Sweden celebrate her feast day.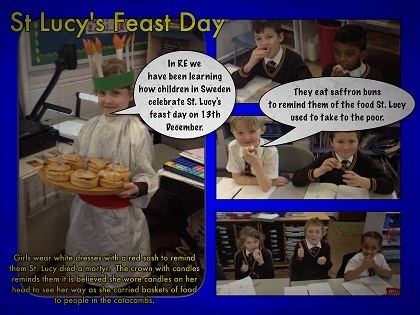 Comments (0)
There are currently no comments.