Our Academy travelling Cross
Monday 19th March
This week in our Academy we have our travelling cross which will travel from Class 1 through to Class 12 helping the children to understand The 14 Stations of the Cross. Class 1 handed the cross over to Class 2 and 3 this morning and we gathered together for a special liturgy where we listened to and began to understand what happened to Jesus on Good Friday. Once our liturgy had ended we travelled with the cross to Class 4 where Maria and Antek presented Vinnie and Alicia with the cross.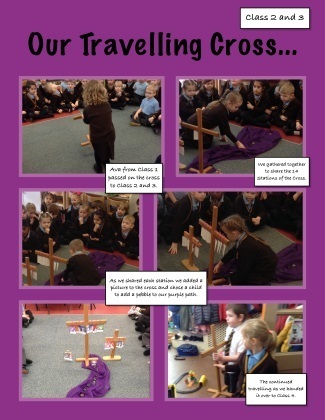 Thursday 8th March
To end our Gathering Topic we planned and then delivered our liturgy today. We remembered that we gather together to do things so that they work properly and are more fun. We planned what we wanted to see, hear, do and think about. We decided to set our focal area as a heart shape to remind us of Jesus' love. Sophie reminded us that we listen to the Gospel when we gather together at Mass, so we decided to retell the Gospel story we had learnt using the stick puppets. Everyone wanted to sing 'Gather Together' and as we did the children put their arms around each other's shoulders and swayed. We wrote down ways we could go forth and spread Jesus' love on a heart. We ended our liturgy by passing a smile around the circle.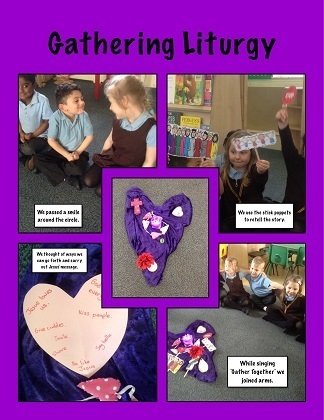 Topic 5: Gathering
Monday 5th February
Today we started our new Come and See topic - Gathering. We thought about all the things we need to do together. We gathered together to play with the parachute because it doesn't work if you are on your own! It was great fun.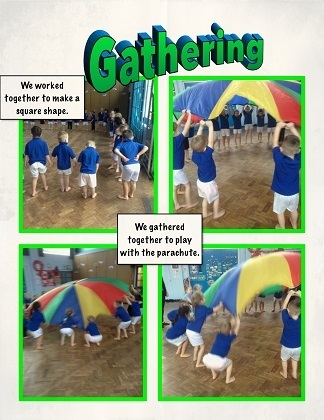 Our First Class Assembly
Friday 12th January
Wow Class 2 and 3! You were super stars or should I say 'super snowflakes!'
A clear, exciting, unique and important message was spread throughout our academy today by some of the youngest children in our academy - well done the unique and special children of Class 2 and 3, Miss Fenwick and I are very proud of you.
Comments (0)
There are currently no comments.
Topic 3: Birthday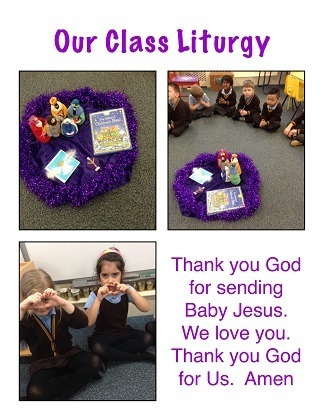 Class 2 and 3 Nativity Sing Along
Class 2 and 3 performed a nativity sing along for their parents and carers - it was thoroughly enjoyed by all and we were very proud of all the children.
We then took the children to visit the residents of Edmund House to perform their songs for them. The residents felt uplifted and loved hearing and seeing the children.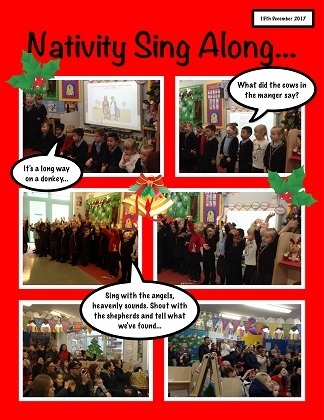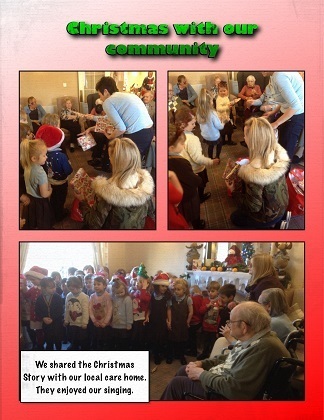 Comments (0)
There are currently no comments.
Advent Preparations
Friday 1st December
On Sunday 3rd December it will be the first Sunday of Advent. In preparation for the beginning of Advent we have made Advent wreaths. We will add a flame to the appropriate candle on each Sunday during this special season.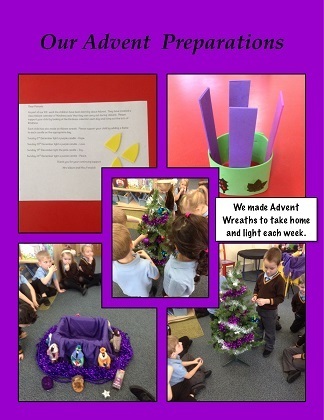 Operation Christmas Child Shoebox Appeal
13th November
We enjoyed learning about the Shoebox Appeal today and how it provides Christmas presents for children all over the world who would not normally receive one. The children felt very grateful that they have family and friends who are able to provide them with a wonderful Christmas.
We invited all children in our Academy to bring in shoeboxes filled with Christmas treats - look at all the boxes just from Class 2 and 3!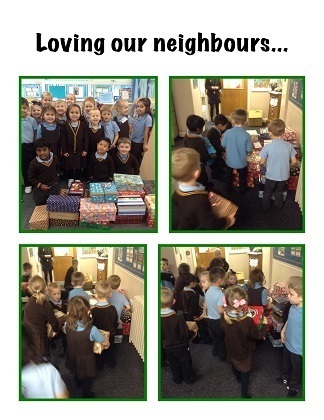 Topic 2: Welcome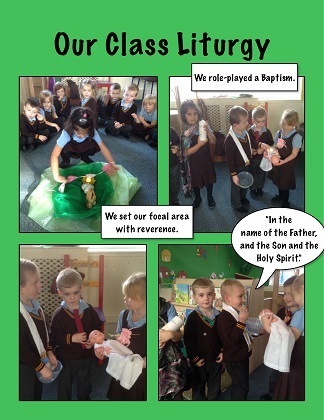 All Saints Day
Wednesday 1st November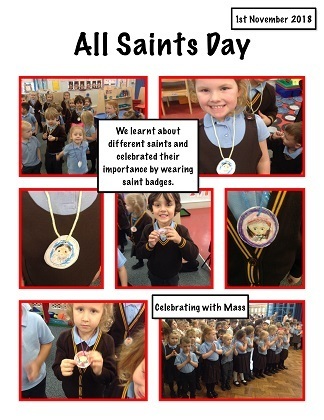 Bible Story Project
Class 3 were given a 'Half Term Project' of making a story paper plate to represent The Creation story. All the children did a fantastic job. As part of the project each class demonstrated to the rest of our academy what their bible story had been. Class 1 joined with us to sing a song all about the Creation Story - once again we were very brave and did a wonderful job.
We celebrated our story with a class liturgy that we planned as a class.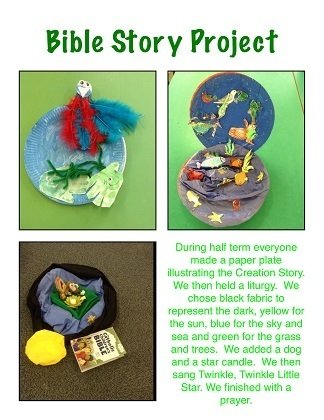 Thank you God...
October
After our harvest celebrations we were feeling very thankful for our wonderful world that God provides, so we decided to write a thank you prayer. We each thanked God for something different and then we wrote each line on an orange strip of paper, we then bent the strips up to create pumpkins. Now we have a pumpkin patch of thankfulness!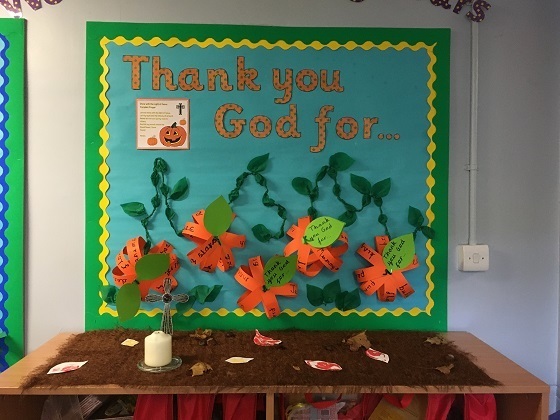 Harvest Celebrations
Thursday 19th October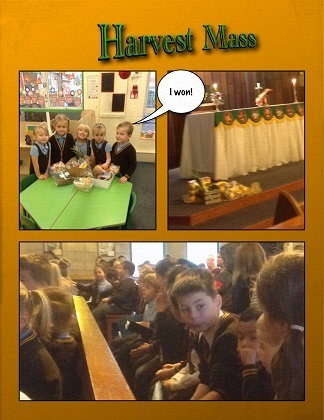 Other Faiths Week: Judaism
Monday 16th October - Friday 20th October
This week we explored the story of Hanukkah.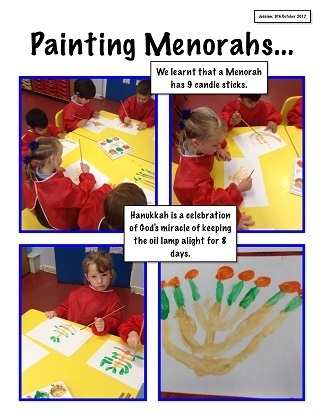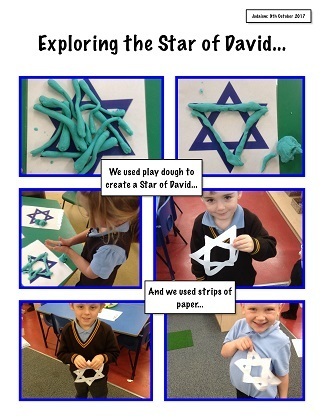 Feast Day of St. Francis of Assisi
Wednesday 4th October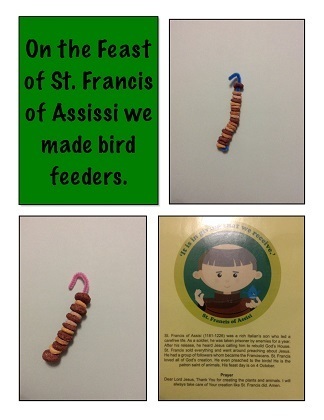 Feast of the Guardian Angels
Monday 2nd October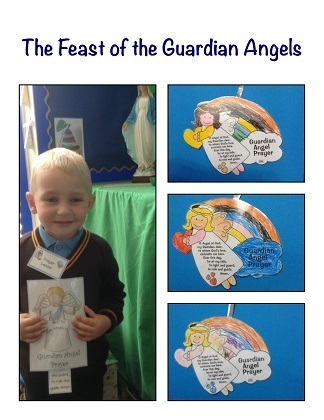 Our Academy Travelling Rosary
Our academy rosary travelled around the whole Academy. It started with the children in Class 1 and they presented it to Class 2 and 3. We then presented it to Class 4 and this continued until it reached Class 12.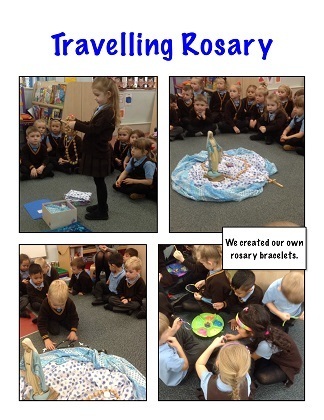 Exaltation of the Holy Cross
Thursday 14th September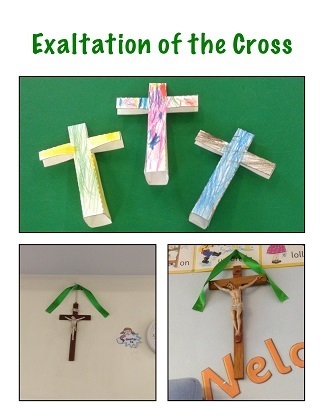 The Most Holy Name of Mary
Tuesday 12th September