Monday 4th June
We enjoyed continuing to explore our new Friends topic today. We created friendship pebbles using our own finger print and our friends to make a heart - we will use these pebbles throughout the Friends topic and then take them home as a prayer pebble that we can use when we are saying our night time prayers at home.
Topic 8: Friends
Monday 14th May
Today we started our new RE topic, Friends. We listened to a story called, 'This is Our House' by Michael Rosen. In the story the little boy George does not let the other children into his house. he says that his house is not for small people, people with red hair, small people, tall people, twins etc. Fortunately buy the end of the story he realises that this is not how to be a good friend and he changes his mind, deciding that the house is for EVERYONE!
Class 2 quickly realised that being a good friend links to the Lenten Promises that we made to; care, share, love and help each other. They decided that they needed to make signs for our friendship den outside, reminding everyone that everyone is welcome in our friendship den.
Good News: Class Liturgy
Wednesday 9th May
Today we ended our Good News topic by planning and delivering our class liturgy. Rebecca opened our liturgy by leading us in singing a song that she had made up herself 'We Love Jesus.' We then told The Story of Pentecost together and used our wind and fire pom poms to sing and dance.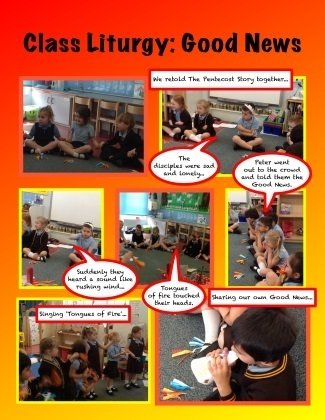 Pentecost
Monday 23rd April
After learning about The Story of Pentecost we went out into the prayer garden to hang our Holy Spirit windsock in the tree and say thank you prayers to Jesus for sending us The Holy Spirit. We sent our prayers into heaven on bubbles.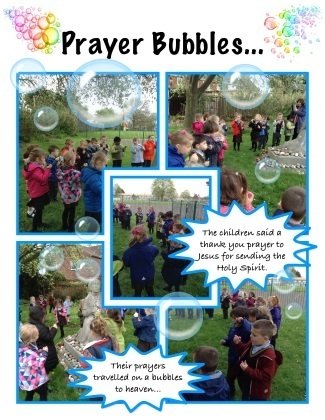 Topic 7: Good News
Welcome back everybody!
Monday 16th April
This week we are starting our new Come and See topic, Good News. I can't wait to hear all of your Easter news. I can imagine it's going to have me dreaming of chocolate, jellybeans and bunnies!
Growing: Class Liturgy
Monday 16th April
Today we ended our Growing topic by planning and delivering our Class Liturgy.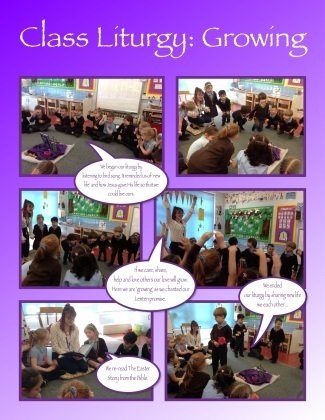 Happy Easter Everybody!
Wednesday 28th March
Have a happy and holy Easter everybody. Enjoy the time off, make happy memories with your friends and family and make sure you are living out your Lenten promises.
"Our love grows when we; care, share and help."
Miss Fenwick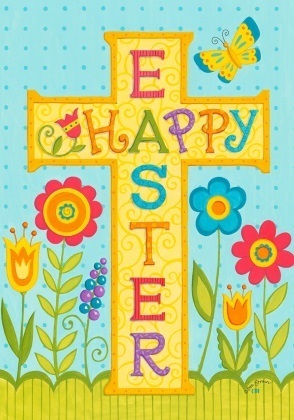 Easter Day...
We planted Easter Gardens to represent new life. Jesus gave His life so that we can live ours.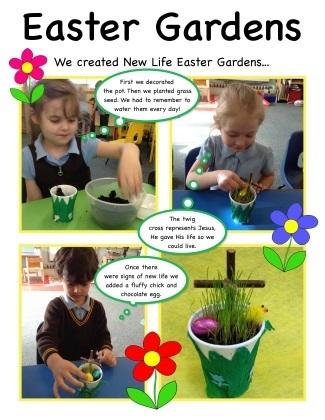 Topic 6: Growing
We have been learning about how our love grows during Lent as we try to live our lives more like Jesus. The children in Class 2 created their own Lenten Poem to help them to remember how we can show that our loves grows:
After thinking of ways in which we can show that our love is growing during Lent we related 'sharing', 'caring' and 'helping' to the 14 Stations of the Cross. We had 14 eggs on our focal area, each containing a picture and a symbol to represent a Station of the Cross. As we opened each egg the children grew to understand how brave Jesus was and how He showed care and love for others even when He was going through a horrible time.
Our Academy Travelling Cross
Monday 19th March
This week in our Academy we have our travelling cross which will travel from Class 1 through to Class 12 helping the children to understand The 14 Stations of the Cross. Class 1 handed the cross over to Class 2 and 3 this morning and we gathered together for a special liturgy where we listened to and began to understand what happened to Jesus on Good Friday. Once our liturgy had ended we travelled with the cross to Class 4 where Maria and Antek presented Vinnie and Alicia with the cross.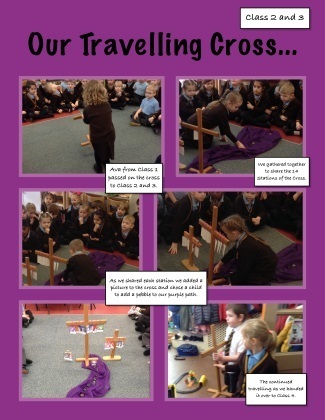 Class 2's Collective Worship: Mother's Day
Monday 12th March
Class 2 planned today's Collective Worship and Miss Fenwick chose Esmee, Zayn, Layce-Mai, Rebecca, Alex and Jaylen to deliver it. The children made links between their Mum's love and the love that Jesus showed for all the children. We invited everyone to sing, 'Jesus Loves the Little Children' with us and we finished with a thank you prayer that the children of Class 2 had written. As the classes left the hall they collected their special Mother's Day Gift that the children in Class 2 had made them (heart with long hugging arms which read, 'We Love Our Mummies.'
Well done Class 2, I was very proud of you this afternoon.
Miss Fenwick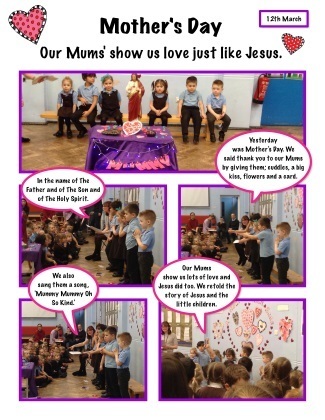 Thursday 8th March
Our Class Liturgy: Gathering
Class 2 prayerfully and respectfully gathered together, held hands and celebrated the end of our Gathering topic with a Class Liturgy. The children worked with Mrs Lewis and Mrs Khan to plan their liturgy. They chose to show the importance of gathering together by joining hands in a circle as they sang, 'Gather Together.' They helped to retell the story of Jesus with the children, they told the story with reverence just like we do during the 'listen' part of Mass. The children ended the liturgy by looking at a picture of children gathered around a globe while they thought of those they love and how they show their love to others.
Well done Class 2, this was the perfect way to share your learning and conclude the Gathering topic.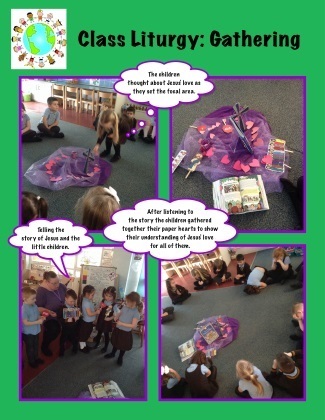 Monday 19th February
Today we learnt about how lots of people gather together to celebrate Mass each week. We learnt about the four parts to the Mass; We Gather, We Listen, We Give Thanks, We Spread the Word.
We drew a picture of a church with many people of all sizes and ages gathering together for Mass. We wrote, 'We gather together to celebrate the Mass.'
Miss Fenwick was very impressed with our drawing skills and the thought that went into our drawings.
Topic 5: Gathering
Monday 5th February
Today we began our new Come and See topic called, Gathering. We learnt how it is important to gather together. We played with the parachute and found that we needed everybody to come together to hold the parachute in order for our game to work.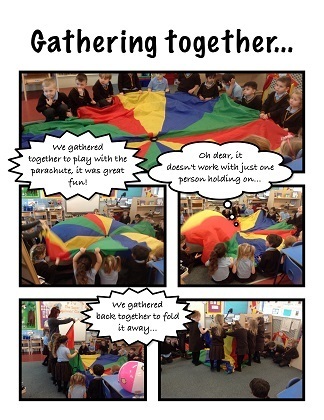 Prayer Partners
Thursday 1st February
Today the children received their bookmarks with the name of their prayer partners on. They are looking forward to praying for their partner throughout 2018.
Our Class Liturgy: Celebrating
The children worked together to plan our class liturgy to end the Celebration topic. They planned what we would see, listen, do and think about. The children made fantastic links within their learning as they chose shiny fabric as Anna and Simeon said that Jesus would be a shining light. They chose to have a disco ball in the middle as that reminded them of stars in the sky, shining like Jesus. We sat in a circle, holding jewels, this shape represented a crown, reminding us that Jesus was the King.
Miss Fenwick shared a new story from the Bible about Jesus when he was 12 years old and went to the temple. Mary and Joseph thought they had lost him and when they made their way back to find Jesus they found him in the temple talking to the teachers. Jesus said, "I am not lost I am in my Fathers house."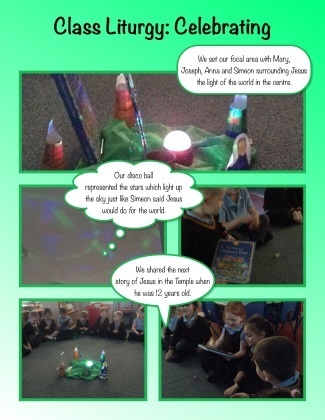 Topic 4: Celebrating
Monday 29th January
Mrs Lewis and I were very impressed with how Class 2 worked together today to retell The Presentation Story, as we set our class focal area. The children were able to think deeply about 'Why Simeon said Jesus would be a special baby?' Alex told us that Simeon knew Jesus was a special baby as He was a king! The children chose to add a star to the top of the wooden block temple that they created, to represent Jesus as the light of the world. Layce-Mai told us that the star shines like Jesus.
Wow Class 2 - we had a special RE lesson today!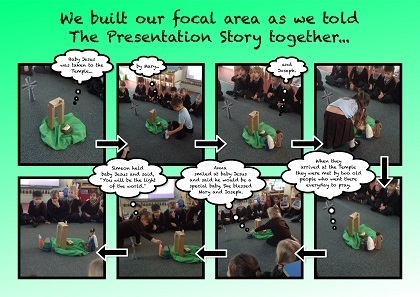 Our First Class Assembly
Friday 12th January
Wow Class 2 and 3! You were super stars or should I say 'super snowflakes!'
A clear, exciting, unique and important message was spread throughout our academy today by some of the youngest children in our academy - well done the unique and special children of Class 2 and 3, Mrs Wilson and I are very proud of you.
Comments (0)
There are currently no comments.
Topic 3: Birthday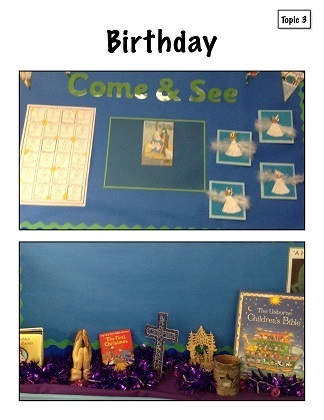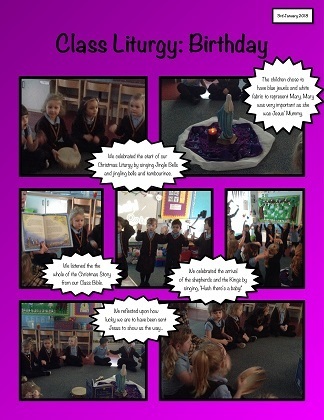 Class 2 and 3 Nativity Sing Along
Class 2 and 3 performed a nativity sing along for their parents and carers - it was thoroughly enjoyed by all and we were very proud of all the children.
We then took the children to visit the residents of Edmund House to perform their songs for them. The residents felt uplifted and loved hearing and seeing the children.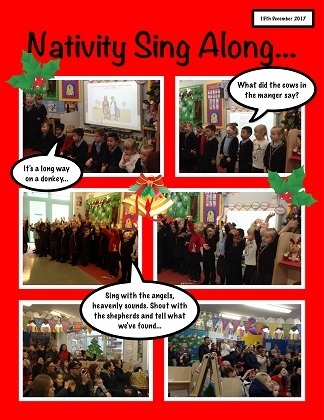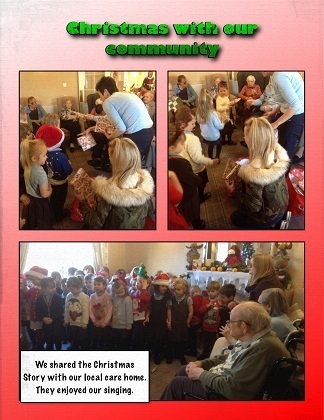 Comments (0)
There are currently no comments.
It's beginning to look a lot like Christmas...
Friday 8th December
We have had great fun preparing our Candy Cane Christmas Trees and Wool Wrapped Stars for our annual Christmas Fayre - we look forward to you joining us for lots of festive fun!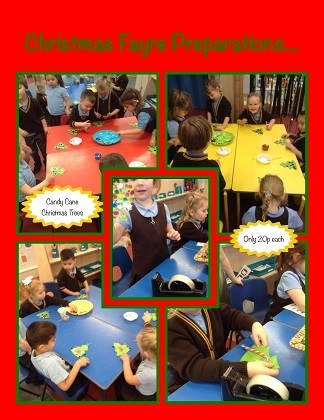 Advent Preparations
Friday 1st December
On Sunday 3rd December it will be the first Sunday of Advent. In preparation for the beginning of Advent we have made Advent wreaths. We will add a flame to the appropriate candle on each Sunday during this special season.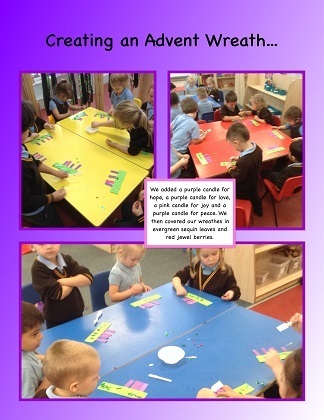 Class 2's Collective Worship
I am so proud of the children in Class 2 who wrote and delivered our collective worship today - you did a fantastic job!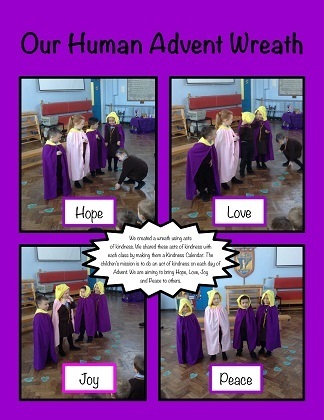 Operation Christmas Child Shoebox Appeal
13th November
We enjoyed learning about the Shoebox Appeal today and how it provides Christmas presents for children all over the world who would not normally receive one. The children felt very grateful that they have family and friends who are able to provide them with a wonderful Christmas.
As a class we put together a 'boys' shoebox and a 'girls' shoebox - we had great fun choosing the treats to go inside. We also invited all children in our Academy to bring in a shoebox - we did very well - look at all the boxes just from Class 2 and 3!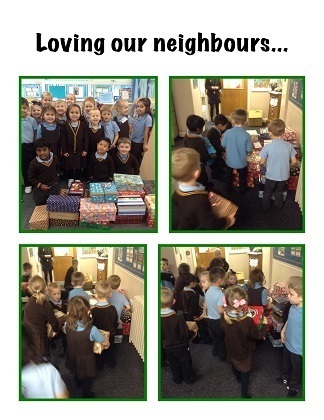 All Saints Day
Wednesday 1st November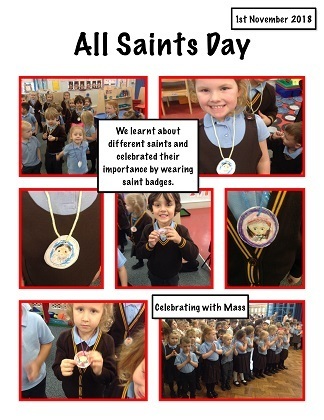 Topic 2: Welcome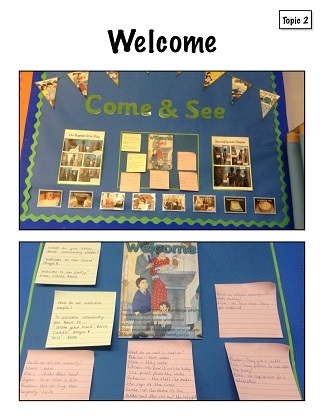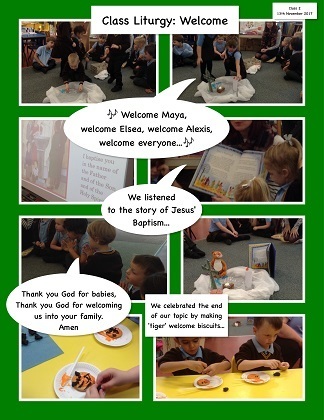 Role Playing a Baptism
As part of our 'Welcome' topic the children have learnt all about 'Baptism' as a welcoming into the church family.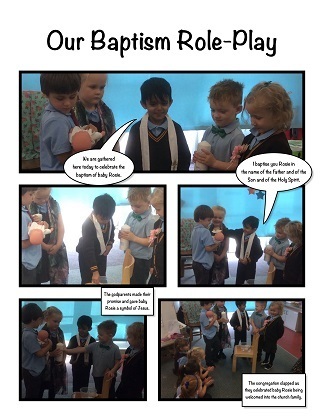 Bible Story Project
Class 2 were given a 'Half Term Project' of making a story paper plate to represent The Creation Story. All of the children did a fantastic job, it was very tricky to choose a winner. As part of the project each class demonstrated to the rest of our academy what their bible story had been. Class 1 and 3 joined us in singing a song all about the Creation Story - once again we were very brave and did a wonderful job.
We celebrated our story with a class liturgy that we planned as a class.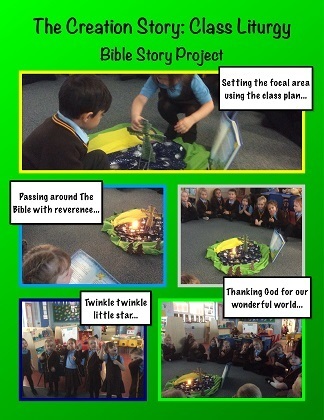 Thank you God...
October
After our harvest celebrations we were feeling very thankful for our wonderful world that God provides, so we decided to write a thank you prayer. We each thanked God for something different and then we wrote each line on an orange strip of paper, we then bent the strips up to create pumpkins. Now we have a pumpkin patch of thankfulness!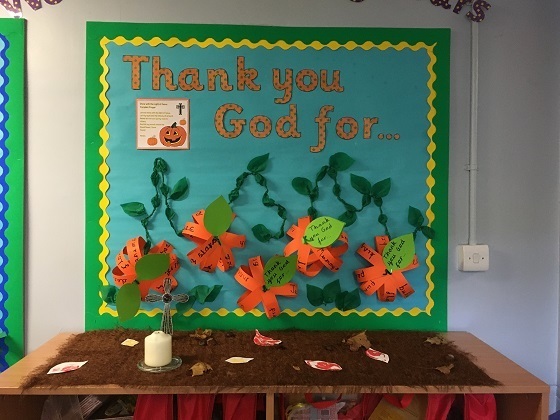 Harvest Celebrations
Thursday 19th October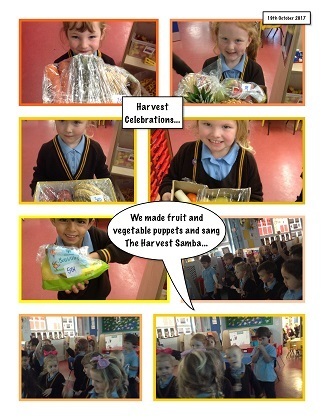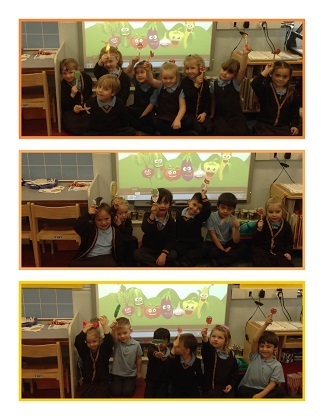 Other Faiths Week: Judaism
Monday 16th October - Friday 20th October
This week we explored the story of Hanukkah.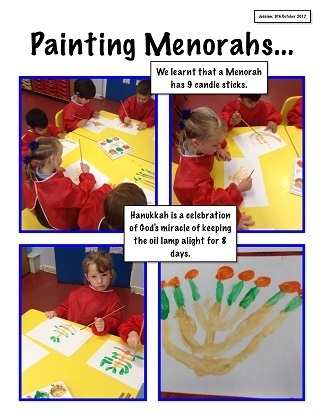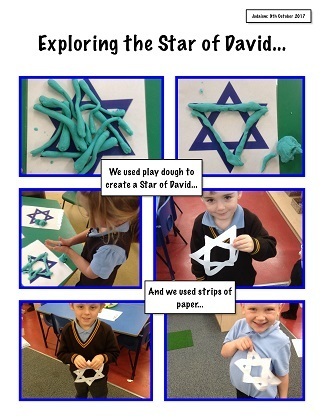 The Feast Day of St. Francis of Assisi
Wednesday 4th October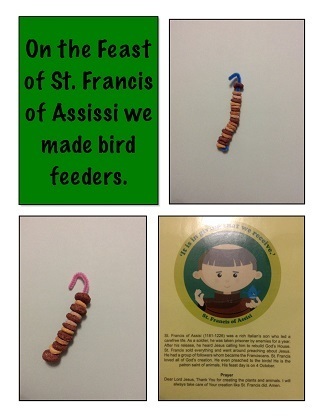 Feast of the Guardian Angels
Monday 2nd October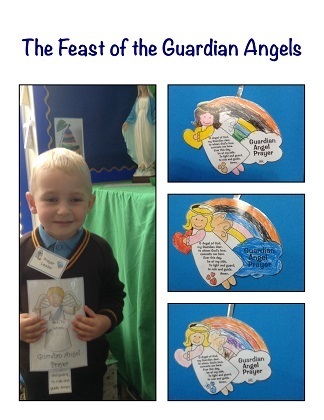 Our Academy Travelling Rosary
Our academy rosary travelled around the whole Academy. It started with the children in Class 1 and they presented it to Class 2 and 3. We then presented it to Class 4 and this continued until it reached Class 12.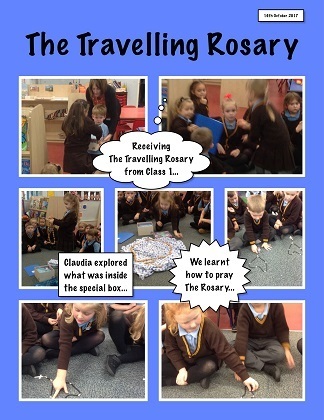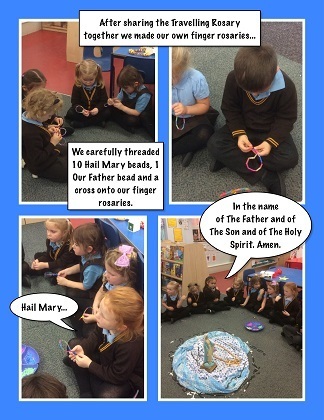 Topic 1: Myself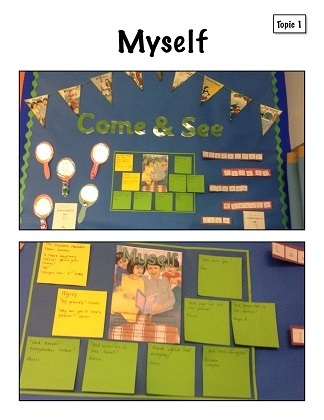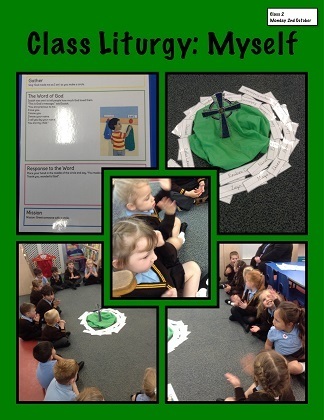 Exaltation of the Holy Cross
Thursday 14th September
The Most Holy Name of Mary
Tuesday 12th September