R.E Class 12
Welcome to our R.E. blog! We are Class 12.
We have an exciting blog to keep all of our parents, carers and visitors, up to date with what we have been learning at our academy. We look forward to sharing all of our hard work with you, so keep checking our blog for regular updates.
Summer Topic 1 - Transformation
As part of this topic we looked at the transforming power of the Holy Spirit. The class enjoyed reading the scripture passage, 'The Road to Emmaus' and watched a video clip, from which we were able to write a diary from the point of view of one of the disciples. We also learnt about the conversion of Saul and researched the life of St. Paul from the moment of his transformation on the road to Damascus. It was fascinating to find out how far he travelled and how many places he visited in order to spread the Word of God.
Spring Topic 3 - Sacrifice
In this topic we focussed on the season of Lent, remembering the sacrifice that Jesus made on the cross. Our learning took us on a spiritual journey through the events of Holy Week, including Maundy Thursday, Good Friday, Holy Saturday and Easter Sunday. We produced a booklet for younger children to help them better understand 'The Stations of The Cross. We also analysed the four Gospel accounts of the Resurrection, debating their similarities and their differences.
Spring Topic 2 - Memorial Sacrifice
As part of this topic we have been sharing our special memories. We each brought in a photograph or artefact to help us explain our memory, why it is important to us and how we celebrate it. We have produced a guide about the Eucharist for people new to the Catholic faith.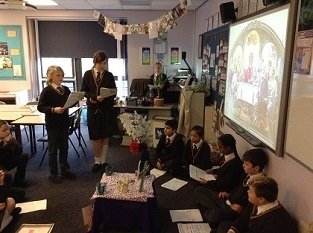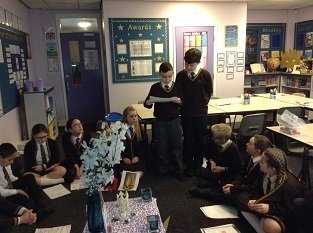 Spring Topic 1 - Mission
In this topic we enjoyed learning about the Christian family and recognised that it is made up of smaller Christian families called dioceses. We wrote a letter, acting as the Bishop of Nottingham, outlining his role as he continues the work of 'the twelve' the apostles who lived out the work and mission of Jesus. We explored a selection of different Christian denominations, including: 'The Quakers' and 'The Methodist Church'.
Autumn Topic 3 - Hope
In this topic we celebrated learning about the birth of Jesus. We discussed the many ways in which we wait in hope during the season of Advent, with a focus on the symbolism of the Advent Wreath. It was fun creating a stained glass window design depicting Jesus' second coming. We also re-enacted the Nativity story through celebrating our Christmas Concert.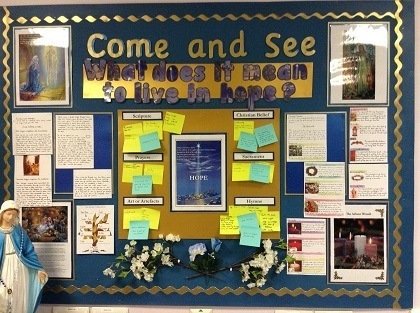 Autumn Topic 2 - Life Choices
In this topic we enjoyed learning about the Sacrament of Marriage and the importance of the promises made between a man and a woman. We produced some informative marriage booklets offering explanations and advice to couples about the Marriage Liturgy.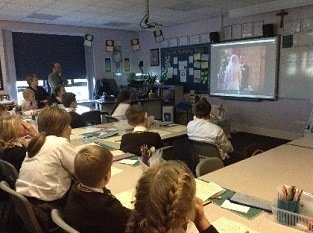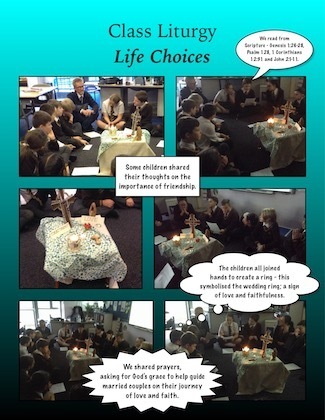 Other Faiths (Judaism)
We found it very interesting to learn about a different faith - Judaism. We enjoyed researching the Jewish festival of 'Pesach' and we discovered the significance of food shared on this special day.
Autumn Topic 1 - Ourselves
In this topic we have enjoyed discussing our unique gifts and qualities and produced some art work around Genesis 1:26-31 'Made to be like God'. We were greatly interested in learning about Father Maximilian Kolbe, researching his life and how his love of God inspired his life.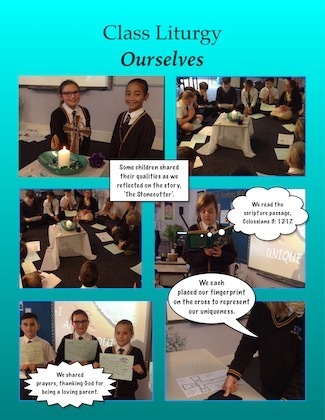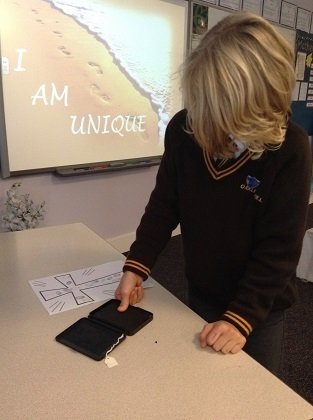 Comments (0)
There are currently no comments.