Whole School Collective Worship: Love
We were blessed to be given the chance to hold a Whole School Collective Worship all about love. We wanted to show people that love is designed for everyone, and is a very important action of selflessness. We taped hearts, with actions written on them, to the floor. This meant that all of the children had to enage with the actions we were giving them. We also gave people the examples of Jesus, St Katherine Drexel and Nelson Mandella, as they showed how to love properly. Miss Clark was so pleased (again) with how well we gave this message.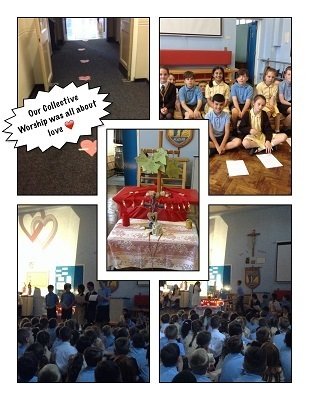 Topic 7: Transformation
April/May 2018
For this special topic, we explored how the Holy Spirit influences us. We created a tree that displayed the Fruits of the Holy Spirit. On Each leaf, there was an action that we can do to show that we are using the Fruits of the Holy Spirit. At the end of the topic, we had lots to add on to our beautiful Working Wall.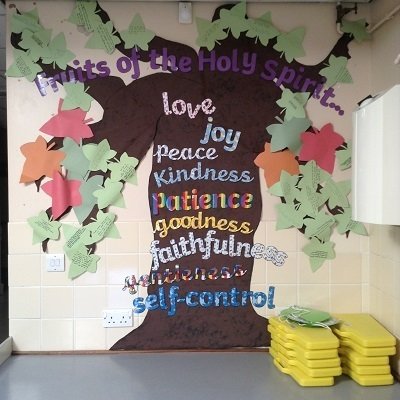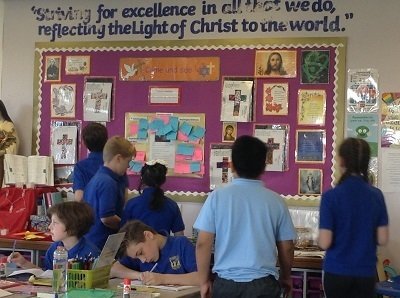 Topic 6: Sacrifice
March 2018
To help prepare ourselves and the other children in the Academy, we decided to hold a Stations of the Cross Service. We talked all of the children through the Stations of the Cross and after each station, we put a thorn into the crown of thorns to remind us of the effect our sins can have on others. We also held screenings of Jesus of Nazareth every lunch time in our classroom. This helped people engage clearly with the events of Holy Week. It was a sad, but very powerful, time.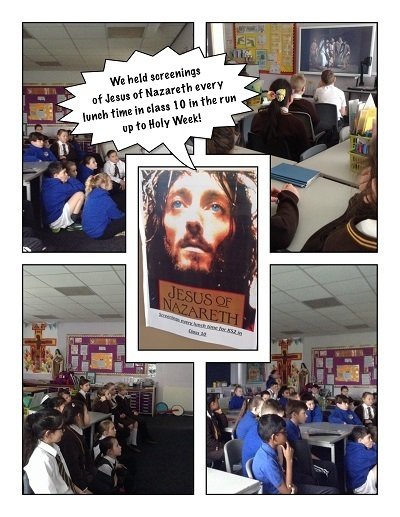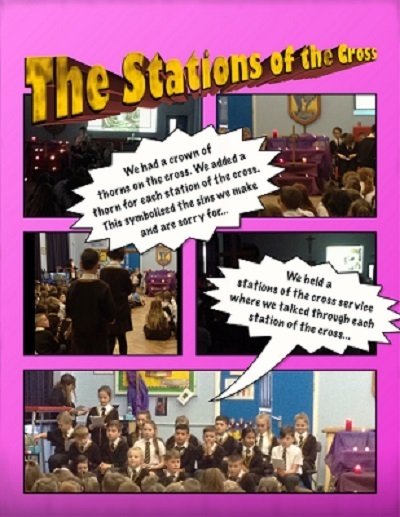 Whole school Collective Worship: Lent
We were so nervous when we found out we were going to be doing a Collective Worship infront of the whole school! But thankfully, it went really well. We decided to tell everyone all about Lent, and how they can sacrifce things this Lent so that they can walk with Jesus in the desert. Miss Clark was very proud of us...as usual!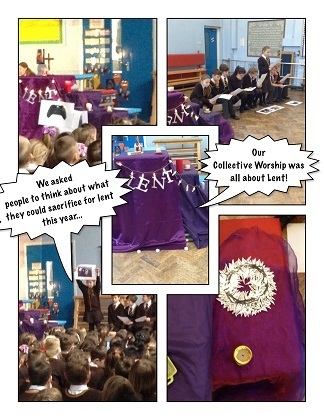 Topic 5: Memorial Sacrifice
February 2018
Miss Clark's brother, Paul came in to tell us all about his mission to Cambodia with Bosco Volunteer Action. He talked to us about how you can 'live out' the sacrifice Jesus made for us by making sacrifices in our own lives for the benefit of others.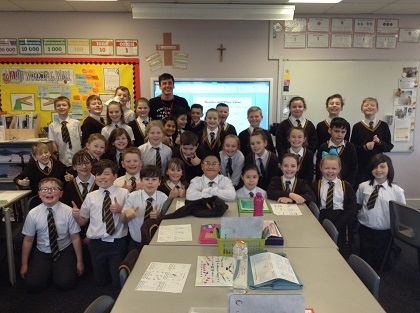 To begin our topic, we looked at special memories. We each brought a special memory into school and shared it with the class, placing it on the worship area when we had spoken. We found out that memories are important to keep hold of as they help us to keep in touch with the past and learn from them. It was amazing to see some of the photographs, ornaments and other keep sakes people brought in.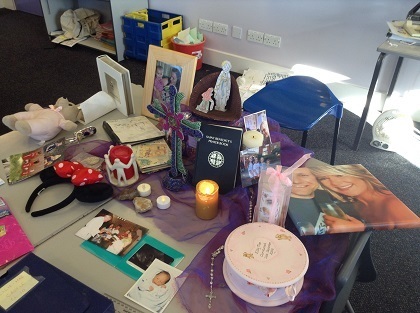 Topic 4: Mission
February 2018
In this topic, we discussed the mission of the church and how it spreads the word of God as well as how the church is organised. To help us work towards a level 4, we discussed ways we could 'live out' the mission of the church. We decided to create a chain of ideas and place it on the fence surrounding St Bernadette's garden. There, we held our own Collective Worship asking God to guide us as we work to support the church.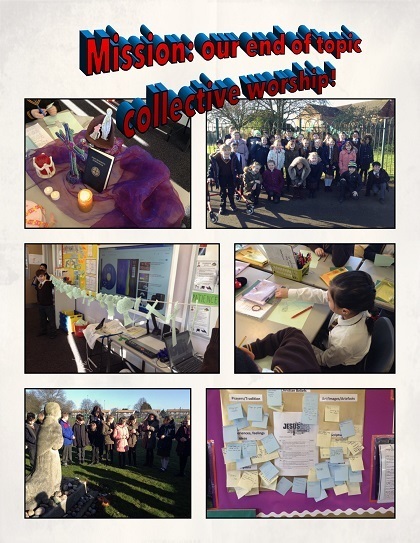 Topic 3: Advent
December 2017
Our theme for this year's Advent topic was Hope. We had an exciting time taking part in an Assembly, Nativity concert and Carol Service. We also made many lovely things to help spread the message of hope such as; calendars and Christmas cards.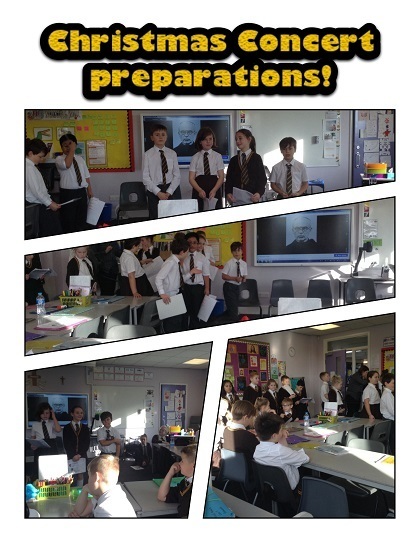 Topic 2: Life Choices
November 2017
In this topic, we learned about the sacrament of Marriage. We had a small class Collective Worship at the end of the topic, which was led by some members of our class. We learned that Marriage, too, is a mission from God and that each part of the Marriage ceremony has special symbolism.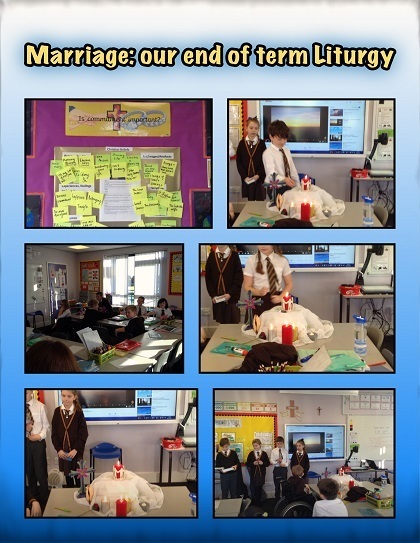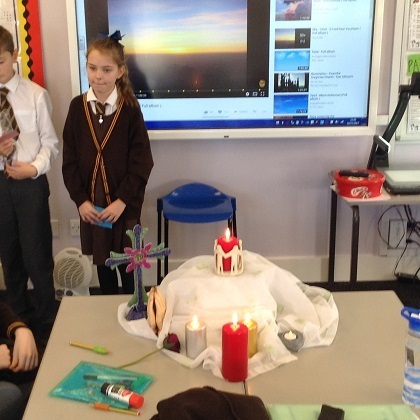 Other Faiths: Judaism
October 2017
For two lessons we were lucky enough to learn about Judaism; The Passover specifically. Miss Clark rearranged the classroom so that we could have our own Passover, in the style of a Jewish family. Miss Clark and Ms Wentworth washed our feet to begin with, we shared from the Sedar plate and learned the symbolism behind all of the items. It was so beautiful.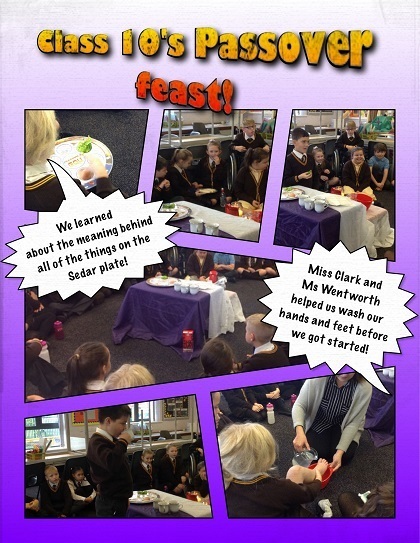 Topic 1: Ourselves
October 2017
Here is a picture of our R.E Working Wall. We learned so much in this topic, especially how unique we are and that we each have a special mission from God.
St John Henry Newman said: "God has created me to do some definite service; he has committed work to me which he has not committed to another."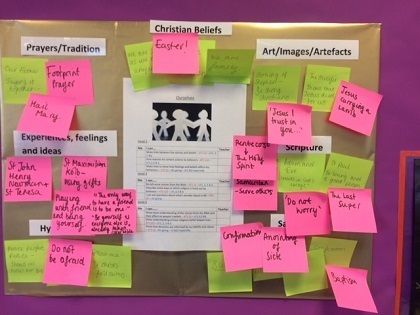 Comments (2)
Show Comments
Sienna Fonte
(less than a year ago)
This is amazing work keep it up !
Paul Clark
(less than a year ago)
Thank you for having me Class 10! It was very nice to meet you all and I really enjoyed my visit. I look forward to meeting you all again soon.