Topic 7: Good News
We have enjoyed learning about The Holy Spirit and how Jesus sent Him to look after us. We made kites to represent The Holy Spirit flying through the sky - we had fun as we took them outside to see if we could make them fly!
Topic 6: Growing
We are all physically growing and we have enjoyed measuring ourselves and discussing what we could eat and do to try to grow even taller!
Our hearts are growing during Lent as we have tried to follow in Jesus' footsteps. We are continuing with this as we have made an Easter promise which we will try to live out for the rest of the school year.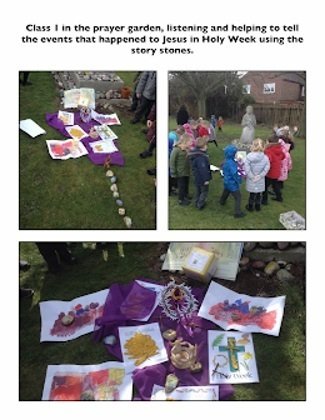 Topic 5: Gathering
We have taken part in lots 'gathering' activities during this topic. We enjoy gathering together as Class 1. Playing with friends is always better then playing alone. We have learnt that people gather together at church to celebrate Mass.
Topic 4: Celebrating
We enjoy celebrating! We have had a party in the home corner, we have celebrated our special gifts and we have read The Presentation Story which was when Anna and Simeon celebrated Jesus, The Light of the World.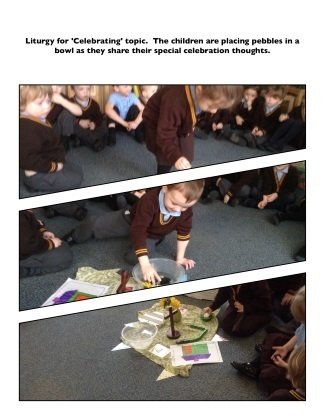 Topic 3: Birthday
We are preparing to celebrate a very special birthday. We have talked about how excited we are when we are preparing for our own birthdays. Very soon it will be Christmas Day and we will be celebrating Jesus' birthday.
Topic 2: Welcome
We have been learning about Baptism. When a baby is baptised they are welcomed into God's family.
Topic 1: Myself
We have been learning about how special we are. We are all God's unique children.
Comments (0)
There are currently no comments.